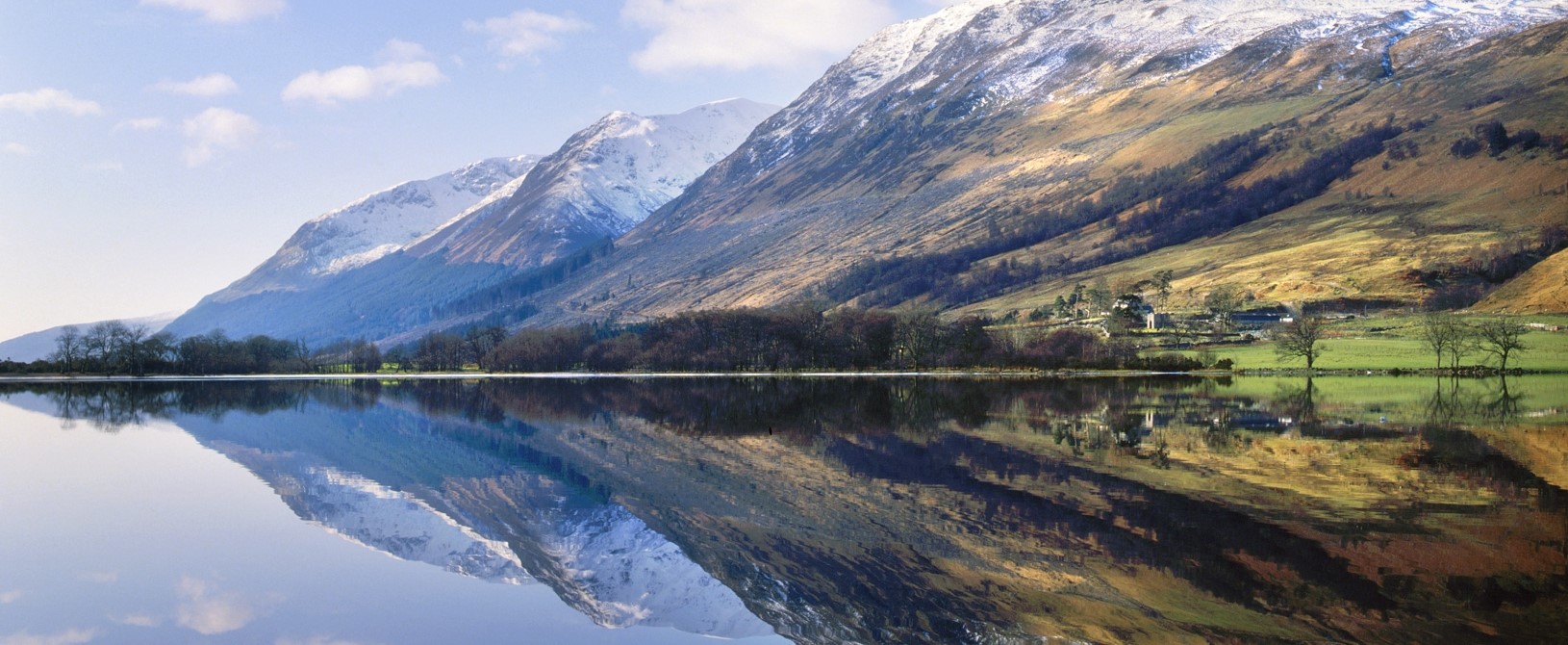 On summer evenings in Scotland when there is time to sit outside and enjoy the long northern twilight, the moment can often be spoiled by the arrival of the dreaded midge. In Scotland there are 37 varieties, but it is just one, the Culicoides Impunctas, or Highland Biting Midge that causes such annoyance. For us at Lochs and Glens they can be a particular problem at Inversnaid and Loch Achray. In the past we have only been able to offer our guests the usual advice - keep moving, avoid dark clothing or apply a deterrent. But at last we think we have the solution - at least in the immediate areas around the hotels. We have just completed a four month trial of the 'Midgemagnet' and have been delighted with the results.
These machines, work on the principle of first attracting insects by mimicking human breath then hoovering them up. When first installed the 3lb bag in the machine needed to be emptied every day, and as every pound is equivalent to one million midges, the benefits were quickly felt. Once the area was cleared, the daily catch reduced sharply. Apparently midges are territorial and are slow to re-colonise a cleared area. It is too early to guarantee an end to all midge bites, but we hope that in future our guests will be able to enjoy the summer evenings unmolested!
Jenny Baker, General Manager at Inversnaid, who will be accompanying the new walking holidays, has just completed the necessary training. She has been walking among the Scottish hills and glens for the past 20 years, but we feel it necessary for her to have the appropriate certificates before leading groups. In response to a number of requests, we have decided to arrange a daily alternative non-walking tour for those who would like something less energetic for part of the time or where one partner wishes to walk and the other not. The walks will be low level and fairly easy - suitable to all of average fitness, but if anyone wants a greater challenge - perhaps one of the nearby mountain summits - this can be arranged. We are fortunate in having some magnificent scenery in our part of the country so we feel sure that this new venture will be much enjoyed.
Details of these and other holidays on offer are shown in the enclosed programme and we hope that one or more may appeal to you.
Michael Wells
London to Inversnaid - 130 Years Ago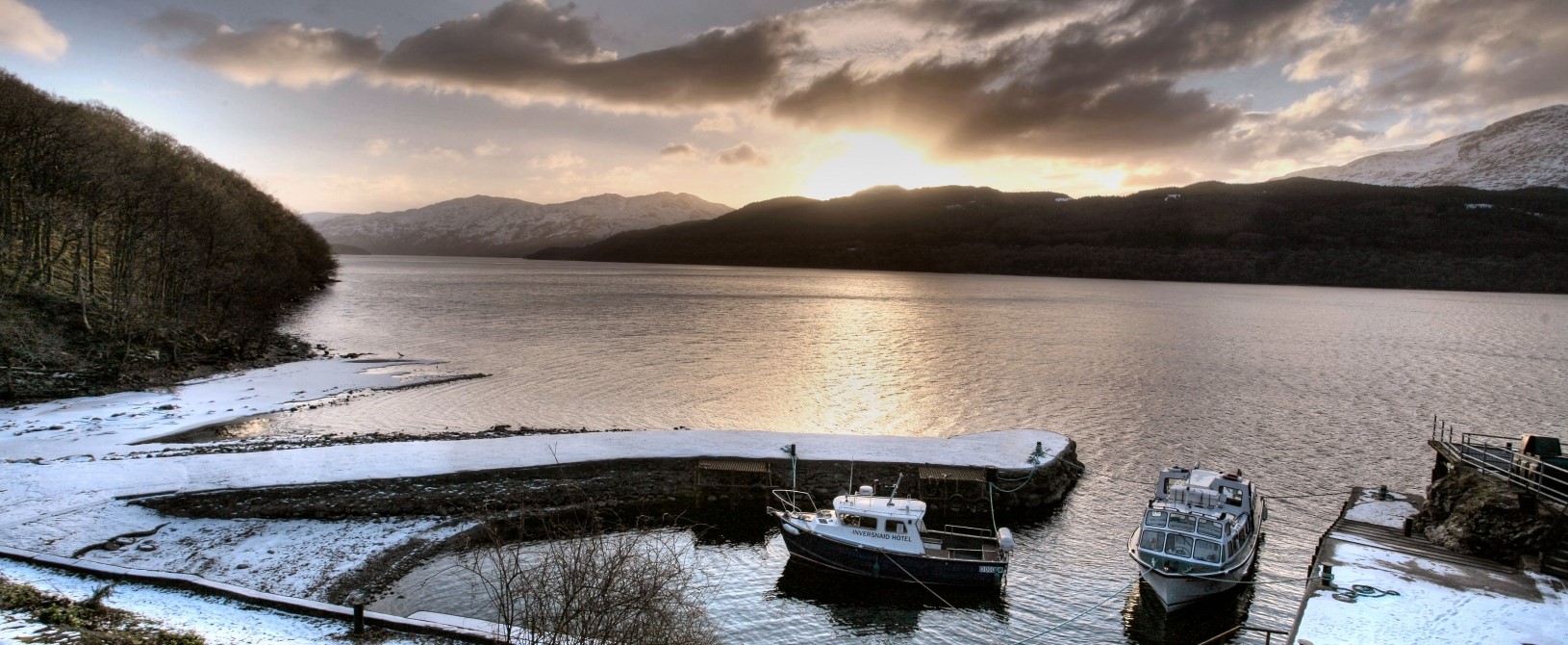 Earlier this year Mr. and Mrs. Baldwin from Essex stayed with us at the Loch Tummel Hotel. They brought with them a copy of a fascinating diary written in 1872 which describes a holiday to Scotland taken by Mr. Baldwin's great grandfather Frank, when he was just a boy aged five. He was accompanied by his mother, Hattie and Hattie's sister, Mrs. Quy who wrote the diary. They travelled by steamer from London to Edinburgh and then by horse and carriage to various tourist destinations. It is particularly interesting to us as it includes the traditional Trossachs tour to Callander, Loch Katrine and Inversnaid - the very same trip that has been experienced by so many of our Lochs and Glens readers.
Remarkably, together with the diary we have photos of the three taken about that time and the only known photograph of the Inversnaid Hotel in the 1870's. After reading the description of the dreadful sea trip to Edinburgh one wonders why they didn't go by train, but the railway between London and Scotland had been completed less than 10 years earlier and the Quys, being a seafaring family, may have instinctively chosen to travel by ship.
Wednesday, 7th August 1872.
Left from London Bridge for Edinburgh by steamer Ostrich about 12.30pm. Hattie & Frank with myself make up our party. We were soon on friendly terms with a few of our fellow passengers, who kindly gave up a deal of information relative to our visit. Before we had gone far a tempest came on and was rather severe, with heavy rain, got rather wet. About seven o'clock we turned off rather sick as night came on got worse, we had a mattress brought on deck for our use but at about two o'clock am we were helped down to the cabin, but found no room, every berth and nook was filled with some poor sick individual. A kind sailor put my mattress on some camp stools close to the engine and cooking room where I could get in, but of course sleep was out of the question, what with the noise, scent and seasickness, I was nearly bewildered, and yet was unable to move from it, from sheer helplessness. The lightning glared in my face where I lay. Frank lay sick and sleeping at different intervals at the cabin door. Hattie on the floor near by him, but at about 3 o'clock he awoke and came miserably over to me perfectly helpless. I took him to my side & there we lay until about 11 o'clock the next morning, when we crawled up on deck feeling still very ill. A gentleman kindly came and helped us to a mattress and rug where I remained until the next morning until about 10 o'clock. Continued very very sick so that I could not get to Hattie, she was the same, and could not get to me, all we could do was to ask those of the gents who were not ill to go and see how each of us was getting on. One, especially kind, fetched me an extra rug, my bag with Eau de cologne in it, and applied some to my face and head to my great comfort, he was indeed a good Samaritan, otherwise I don't know what we should have done, we took nothing for about 42 hours. However we safely arrived at Granton Pier, Edinburgh about 6 o'clock on Friday morning feeling better but very weak till the same kind Samaritan helped to get our luggage up & saw us off in a cab. We were the first to depart, instead of seeing the beauties of the coast as we had hoped we were too ill to notice any places. I did make an effort altho' a sick one to look at Scarboro. A whole was seen by those on board, who were able to move, but we were like logs & could nest, however we hope to see more on out return.
We arrived at the Waverley Temperance Hotel in Princes Street, Edinburgh at about 5.15, could not obtain a bed at once, but a gent vacated his bedroom so that we could go in until a larger one was vacated by someone else. We had some coffee about 8, and about 10 got into our bed until tea time, had tea, felt refreshed and took a walk, met several of our fellow sufferers at the breakfast table next day & also met the Samaritan in the street during the evening walking with his wife, we strolled together about the town for a time & became quite friendly.
Saturday 10th August.
After enjoying the nights rest got up feeling better, but still the motion of the boat made us feel queerly at times, & we are told we shall do so for a few days, we conversed with our neighbours at breakfast, felt quite at home with the scotch folks - set off after breakfast to see over the fine old Castle, went to the room where James 1st of England was born. Saw the regalia & all else worthy of notice, finding the Guide Book Mrs Wiseman lent us of very great service at the time. After doing the castle we took tickets for Portobello to a regatta, heard some fine Highland music by the 93rd Highland Sutherlands, also a band composed of bagpipes. The highland dress is very pretty indeed. Lunched in the saloon on the Pier, then got back to the Hotel about 7 to tea after then, our Samaritan friend & his wife (Mr & Mrs Prophit) called to us to propose our going to church with them on Sunday morning, and also to help arrange for the proposed visit to the Trossachs on Monday, they are very kind people, we had no idea of meeting with such, it is really very pleasing for us, when on the first evening, whilst walking out, we met someone to bow to, who we saw on board the steamer, wrote a letter or two, and went to bed tired.
Sunday 11th August
Had breakfast, still feeling the motion of the steamer, went to church 'The Tron' with our friends, heard a very peculiar sermon by Dr McGregor from 3rd Gluisis, the Scottish church is very similar to our English Dissenters, they invited us to go & have wine with them at their hotel, but we did not, we invited them to tea with us, then came & took a stroll round the town, with us to our hotel to dinner - enjoyed it, had Salmon, Loin of Beef, and Loin of Lamb with peas potatoes & sauce, Almond pudding of some kind, Tapioca ditto, & jelly. Met a gent who knew Chelmsford well, after dinner he came & chatted with us for an hour, offered to take us to the theatre on our return from the Trossachs. During the afternoon, I wrote my diary, it came over to rain very heavily for a time. Hatty wrote to mother (Mrs Quy) & Mrs Jones (Ma in Law)- Gosbeck. Our friends have been & taken tea. We have since had a drive with them, round the Queens Drive (Arthurs Mount) and fine very fine indeed is the scenery. We saw the sweet little village of Haddington situated in the loveliest of dells. Surrounded by the mountains of red rock, some miniature Lochs peeping here and there wherever the eye might go, looking so calm and happy, the rain which was falling all the time kissing them as it fell, the green slopes were studded with many a pair of happy lovers doing umbrella courtship, so picturesque a scene I had never witnessed before at one time. The lovely Firth was before us and suddenly, on turning our head, huge rocks which our eyes (in our then situation) could not reach the top. The wonders of nature were indeed then before us on all sides. If it had been fine weather, of course, we should have enjoyed it more, our kind friends did all & said all they could for our comfort & Information, & to our great surprise gave us a warm invitation to their manse in Dumfriesshire &, before parting at night, would not think of taking ought for our share in the expense of the drive & made every arrangement for our journey to the Trossachs tomorrow & our visit to them about next Saturday, why is it, I wonder that we should have met with such kindness from perfect strangers, who would have thought it? Wherever I go I meet with such kindness from quarters when I expected none. We are indeed obliged to them and cannot express our gratitude as freely & warmly as we would wish, this is quite an unexpected comfort as well as pleasure.
Monday, 12th August
Breakfast early to leave by train at 8.45 for the Trossachs. On the way saw many objects of interest, the ruins of Middry Abbey where Queen Mary passed the first night after her escape from Loch Leven Castle - Linlithgow, the birthplace of the same. On arrival at Stirling we alighted & walked thro' the quaint old town with its equally quaint looking women with their petticoats & linen frilled caps, some bare legs and feet, also were most of the children. Passed thro' the prettiest of cemetery's with its many monuments of interest, amongst them John Thorn's the famous one of two Virgin Martyrs - Margaret Wilson & her sister Agnes who were tied to a stake below high water mark for Christianity's sake 'Virgin Martyrs of the Ocean Waves'. The cool refreshing gothic little drinking fountain with its miniature rustic bridge, was all in keeping with the solemnity of the spot. On reaching the castle we were very politely shown the chief features of it, by a very gallant young English Officer. 'The Douglas room' & the ladies walk with the Lions den were particular objects of interest. I ought to have mentioned that on first entering the carriage at Edinbro' there were two Ladies on the same journey as ourselves, an American gent who had been the same tour & each soon got into familiar conversation with each other, the great departing to elsewhere during the time, after passing thro' several towns several towns of historical note amongst them. We arrived at Callander, an old fashioned town, with posting house in it, where we mounted a coach (and crammed, we were too rather uncomfortable so) but as we went along, the beauties of the scenery dawned upon us, and I may say increased in its beauty at every turn of our heads, sometimes we found ourselves upon a road elevated at an alarming height from the valley beneath us and almost at the same time we were by the side of some sweet loch, or gentle stream running down in a silver-like manner to our horses feet. On entering the Trossachs, our delight and exclamations increased. Our Scottish coachman gave us all the information he knew about the way (which was no little as he had driven thro' the pass 35 years and never had a single scratch as he said - his Scottish brouge was at times scarcely understandable by us - 10 miles we drove, thro' fern dells, hills and slopes, until we thought nothing could be much more beautiful. However we arrived at the beginning of Loch Katrine and what we had seen was just a peep at the beautiful. The spot seemed all but a hallowed one, we were only a few in number on a miniature steamer (clean & free from all the late sad scene of the sickness) But there we sat in the full enjoyment of the gorgeous and sublime beauties of nature before us. The soft gentle mountain air came upon "with healing on its wing" it seems to me that one might find comfort there under almost any trial, that is if a taste for the beautiful is in the heart. On our arriving at the end of the loch, we went on shore at the Stronachlachar Hotel, waited a short time & then started again in an open coach for five more miles of mountain slopes, the last of which the mountain torrent was rushing past us, at some time it was nearly out of sight, the ravine so deep beneath us and yet so very near. We arrived safely at the Inversnaid Hotel, the end of our journey for that day. We found the hotel unusually crowded, however as we were the bearer of a note of introduction to the landlord (a fine honest face - a handsome gentlemanly Scotch man) we were accommodated better than many others, (he giving up his bedroom for our use). Our other travelling companions had to sleep on beds made up in the parlour and 9 other guests in the dining room floor. We washed ourselves a bit, and then went to a table d'hote tea and a pretty little set out it was too, everything heart could wish for - after tea about 8.30 I took a stroll to the waterfalls close by, crossed them, on a bridge made of wood, the torrent underneath us seemed to vibrate for some distance round, gathered a few flowers, walked to the edge of Loch Lomond at the floor of the Hotel garden - came indoors about 9.30, wrote a little then went to bed, having had a bad cold & headache the greater part of the day. Never have I slept in the midst of such magnificence.
Tuesday, 13th August
Got up about 7.30 not having slept at all well, on account of the sound of some rats (and not a few) They created a great noise all round about our room. No doubt they were enjoying the silence of the night, but at the annoyance and expense of others. To our great disappointment, the morning turned out wet. The mountains around us could scarcely be seen, even close by. I wrote a little in this diary before breakfast, which took place at 8.30. Had some salmon cutlets & tea for breakfast, but ate without appetite my cold was so sadly - After breakfast took a hurried walk to the bridge over the falls, to gather a few wild flowers. Saw the landlord and thanked him for so friendly resigning his room to us, and took steamer for Loch Lomond. On we journey again thro' rain and mist up a finer Loch than Loch Katrine but to my taste not prettier. There certainly was more grandeur in it, what little I could judge thro' the dense mist, and we saw it to great disadvantage under the circumstances, but allowing for all that, I still give the preference for Loch Katrine, it may be because it was the first I had seen. I don't think I can ever forget the feeling of mingled pleasure & fear I experienced, during that days journey as far as the Inversnaid Hotel. We landed at the end of Loch Lomond at Balloch Pier where a train was in waiting for us drawn close up to the pier, left there and went onto Glasgow, where we spent 6 hours, visiting just the Cathedral, pleased with it, but not so much so as either of the others I have been in - certainly the Crypt is very fine as also is the stained glass, which is in nearly every window from Crypt to the roof. Had a bit of fright about little FRANK, he moved from where he was left & for a short time we could not find him. Strolled about town, brought my cruet stand in Buchanan Street. Hattie also bought a Scotch cap for Frank. Took train to Edinburgh discovered I had left my watch & chain at the Inversnaid - wrote to Mr Blair for the same, felt very annoyed with myself for doing - and a little frightened beside, although I felt pretty sure it was safe. We washed & dressed for tea enjoyed it although feeling sadly from the cold & fatigue. Received letters from Mother, Molsie & Herbert.
Wednesday, 14th August
The Queen arrived from England to stay in the City for a day or so on her way to Balmoral. The Castle guns fired a Royal Salute about 8.55. Hatty heard from Mr Prophit relative to our visit - Very tired - did not feel first rate, a beautiful day (Queens weather) took a walk out bought a travelling basket at a large Bazaar also another, other little things as presents from Scotland. After dinner set off again for a walk in the hopes of seeing the Queen but felt too queer to remain out so came in to lie down, had a nap, got up to tea feeling better. Saw Her Majesty from our room window well. She looked jolly, but yet a little cross, suppose she was feeling fatigued, I am glad to have seen her, poor old dear and to think this should be the place, so far from home, Hattie had never seen her, I had years ago - After tea Hattie and a lady staying in the house set off for "Arthur's Seat" but the latter created a slight scene on the way which stopped their progress - a little too much drink had been taken previous to starting & the ill effects soon showed themselves - poor old Hat, wished herself anywhere but where she was - she also met with another little set about, with a Highlander who mistook her for a lady friend of his - Frank and I took a little stroll in the city for a time - came in and put him to bed a little odd job or two of needle work in our bed room and then went to bed.
Thursday, 15th August
Got up at 8.30, Hatty heard from Mrs Prophit - I answered both his her letters - dressed and set off for the Rosslyn bus but arrived too late, rushed to the railway but only to be too late for that, much to our disappointment, however the Superintendent advertised us to take a train to Polton at 12:45 which we did, and after walking a good long step through a very pretty lane found ourselves on the high road but all on towards our journey end we all felt tired, tired, oh so tired, but when we reached Rosslyn were doubly repaid for all our trouble, as one Guidebook said "it would be impossible to describe the beauties of the architecture in that lovely little chapel, our time was short owing to our mishaps in getting there, otherwise I could have enjoyed hours in the place - we had to hastier to the coach for Edinburgh to try for seats, not expecting to get any, but were fortunate in so doing. So up we got on the top, fine fun, enjoyed the ride, something so entirely new for me to ride outside, reached our hotel about 3 o'clock - took tea, after changing our dress and then went to by some shoes for each of us - walked a little further on expecting to see the Queen returning from Dalkeith but she went in another direction. Came indoors again and on my way some beast of a man spat upon my green silk dress - poor unfortunate dress - Wrote during the remainder of the day.
Friday, 16th August
Mr Prophit called early to see us - Talked about sending telegram for my watch as I left it at the Inversnaid Hotel, we thought it the best thing to do. Mr P set off at once and so - made arrangements for our journey to St Mungo - finishing the morning upstairs, with needlework & packing - dined at the Waverley - Mr Prophit called again to take us to the station, and see us off - very kind indeed of him. Took our tickets for Lockerbie and left about 4 o'clock. Very pretty scenery on our journey. Sometimes a hill on one side, covered with bright red heath & there by its side one of ferns, on our left a sweet stream or some pretty Loch, our way for many miles lay between two ridges of hills or small mountains to us. We managed to get Frank there and back for nothing - thanks again to Mr Prophit. On our arrival at Lockerbie Mrs P was there to meet us. Her first words were "delighted to see you" outside the station a close carriage awaited us, as it was raining fast. In we got & after 4 miles drive arrived at a sweet little Manse as I ever saw, standing about 24 yards from a gentle and pretty river (The Annan) with slopping grass leading to it. Everything that could be thought of & done for us was already awaiting our arrival, a cheerful fire blazed in a pretty study, a snow #000060 damask cloth lay upon the table on which was already prepared our tea. Hot fish eggs, Toast, cake & Scotch oatmeal cakes, with other sweeties, all prettily arranged on the prettiest of fancy dishes, and although we were en persons it only seemed a dream for we were nothing more than strangers to each other about a week since. Our bedroom was the best in the house, with great comfort in it, the feeling of an older acquaintance seemed to exist between us and the house, we were perfect at home, one could not help feeling so - yet we kept wondering why we should be so - we were tired on going to bed as the journey was rather long, the distance being about 85 miles by rail from Edinburgh where we started from.
Saturday 17th August
Breakfast about 9 - Frank in the nursery with 4 children, he did not like their usual breakfast of porridge & milk (neither should I, its too salty for my palate) After breakfast I played on the piano for a time at 11 o'clock we set off for a 12 miles drive round Loch Mayhew and other places. Got back about 4 o'clock - Fish and stewed shoulder of lamb with green pea sauce, plum tart & boiled custard & cream - retired to another room for a time - Mr Williamson the deputy Minister arrived before tea time, after tea a little music and chatting till 11 o'clock, then prayers & to bed-
Sunday 18th August
After breakfast, was driven to their church about 2 miles off. Service at 12 - returned to dinner at 4.30. Cold Salmon hot roast fore quarters of lamb, plum tart & blancmange - after dinner Miss Spence (the governess) the children and ourselves walked along the glen (or dell) by the river side leading from their house nearly as far as there Glebe Land extended - such a sweet spot - trees, ferns and wild flowers in abundance, with the sweet sound if the pretty river by our side, all made it seem like a fairy dell - salmon and other inhabited the stream - Hattie saw one of the latter - some parts of the stream were - Some parts of the stream were fordable without shoes or stockings, so pretty in parts, with a wood on the opposite side. I should like to have a tent there for a day or two - tea at about 8o'clock, prayers and bread & biscuits and milk supper each night .
Monday, 19th August
After breakfast I wrote to mother (Nee Wiseman Charlotte Quy)- Mr Williamson & I to get some ferns from the dell. Mrs Prophit busy - I played for about 2 hours piano & harmonium - Mrs P gave me a piece of music "Nazareth" also gave Frank "Peep of Day" Frank for a drive to Lockerbie to take Mr W to the train - we dined about 3, strolled in the garden for fruit, Hatty & I into the burial ground close by the ruins of the Kirk still remaining looking picturesque among the tombs - Left the sweet house (where such a sweet calm seems to reign indoors & out) about 5 for the train driving by Castle Milk and up to the Castle got admission through Mrs Prophit being with us, as she & husband are well known there by the proprietor K Jardin Esq. Saw all the principal apartments in the Castle and a rare treat it was too, a more splendid house we had never seen, magnificence was everywhere indoors and out, the Owner was from home so all the pictures and chief beauties were undercover - but we saw many of them, we also saw the portrait of the late Lady - poor thing she died while the Castle was in building for her & left a dear boy 1 month old, how sad to think about it, taken away in all her beauty (for I am told she was extremely so) & in the midst of wealth & splendour, although she only saw the castle whilst building - we had not much time to stay for fear of losing the train for Edinburgh - however we saved it by a long time as it was more than half an hour late - Mrs Prophit waited to see us off and gave us many pressing invitations to go & see her again (strange is it not?) we promised we would do so when an opportunity offered - she showed the same amount of kind thoughtfulness up to the time of our departure - and on our arrival at Edinburgh Mr P was there at the station to meet us & help us - we took a cab & when we got to the Waverley, found we could not have a bed, so off went our friend to find us one - successed at the "Regent" so over we went about 10:15 had some steak & coffee for supper & went to bed Mr P had his room there also, he supped with us - found him looking about the same, poor man his health is very indifferent.
Tuesday, 20th August
Rose about 8:45 had breakfast. Mr Prophit met us at the breakfast table - had some chat with him about my watch (by the by I received quite safely last night, a great relief to me to get it) At first Mr P had his doubts as to whether I should recover it as he knew there were a number of dishonest persons about - Saw him off by cab from the hotel& then went ourselves to look for lodgings - succeeded in finding one large airy bedroom & very comfortable in 9 Howe (or Home) Street - book it until Saturday - set off back to a restaurant to dine - Collected our boxes & parcels & arrived at 9 Howe (or Home) Street about 3:30 soon settled ourselves in the same, I the wrote to Mr Blair & Mrs Prophit (St Mungo Manse Lockerbie) took a walk after tea, in again about 8, wrote some of this diary. Poor little Frank to bed with a cold, Heard from Sally Gelder.
Wednesday, 21st August
Did not hurry up - breakfast in our bedroom - did a few odd jobs & arranged our things then set out for the Palace of Mary Queen of Scots (Holyrood) on our way purchased a butter dish & spoons in Princes Street. Spent about a couple of hours in Holyrood, saw the apartments of the ill fated Queen, the bedroom remains pretty nearly in the same condition as when last inhabited by the poor luckless unhappy woman. There is the room in which the murder of Rezzio took place, Lord Darnleys rooms & the stair case that the assassins entered the Royal Chamber to carry out their bloody intentions, and even saw the stains of blood upon the floor where poor Rezzio was dragged to after the fatal blows given. Something sad to contemplate - there is nothing so very beautiful to look upon either in or about the Palace but of a certainly it is a place of great interest in many ways - the pictures are very ancient, although not to my taste in style, their antiquity gives them such a gloomy appearance & there is such a sameness in all their frames - the abbey ruins are fine - there is the Royal Vault containing the remains of David 2nd, James 2nd, James 5th his wife Magdalin, lord Darnley & Others, Rizzio's gravies also in the abbey. Only one side of the Palace is shown, the other being left for our Queens use, she had recently occupied there - from there we started for "Arthurs Seat" got a little way up but had to return on account of the Scotch Mist so thick & damp, quite like a fine rain - we got back to our lodgings at about 6 o'clock, meat for tea & so tiredwith our days march, enjoyed our leas - I wrote to Mother & Aunt Sally. Was disappointed at not hearing from the former in the morning. Wrote in my diary till late - Frank sadly with cold - my own cold feeling better by a great deal -
Thursday, 22nd August
No letter as expected from Mother, Hatty walked to the Waverley - Frank & I set off to meet her. We strolled round the West part of town, through handsome quiet streets - Had some luncheon about 12:30 then set off walking to the Botanic Gardens - agreeably surprised by the beauty - the Palm House is extremely fine & contained some magnificent specimens of Palms. The Grounds are very pretty, not many flowers of great beauty as they are chiefly collected for study. There is a good museum containing some fine curiosities & specimens of different things. We thoroughly enjoyed being able to sit down in the open air the day being beautifully fine. We got very, very tired though & obliged to get a cab home, had an early cup of tea, a little rest & set off again, bought some wool work for H's shoes, Hatty a hood for travelling, then walked to Princes Gardens, watched some people play at "Bowls" went on down High Street to see John Knox House (The great reformer) in the street which is peopled by the lowest class in this lovely city, it was crammed with all the riff raff imaginable - glad to get out of it - reached home about 8:30 so tired, been on ones feet nearly all day. Had a letter from Mr Blair about my watch in the morning. Got to bed in good time to make much of our rest, ready for our proposed journey home on Saturday night. Left Granton Pier about 3 o'clock in the afternoon of 24th August 1872.
Re-Opening the High Road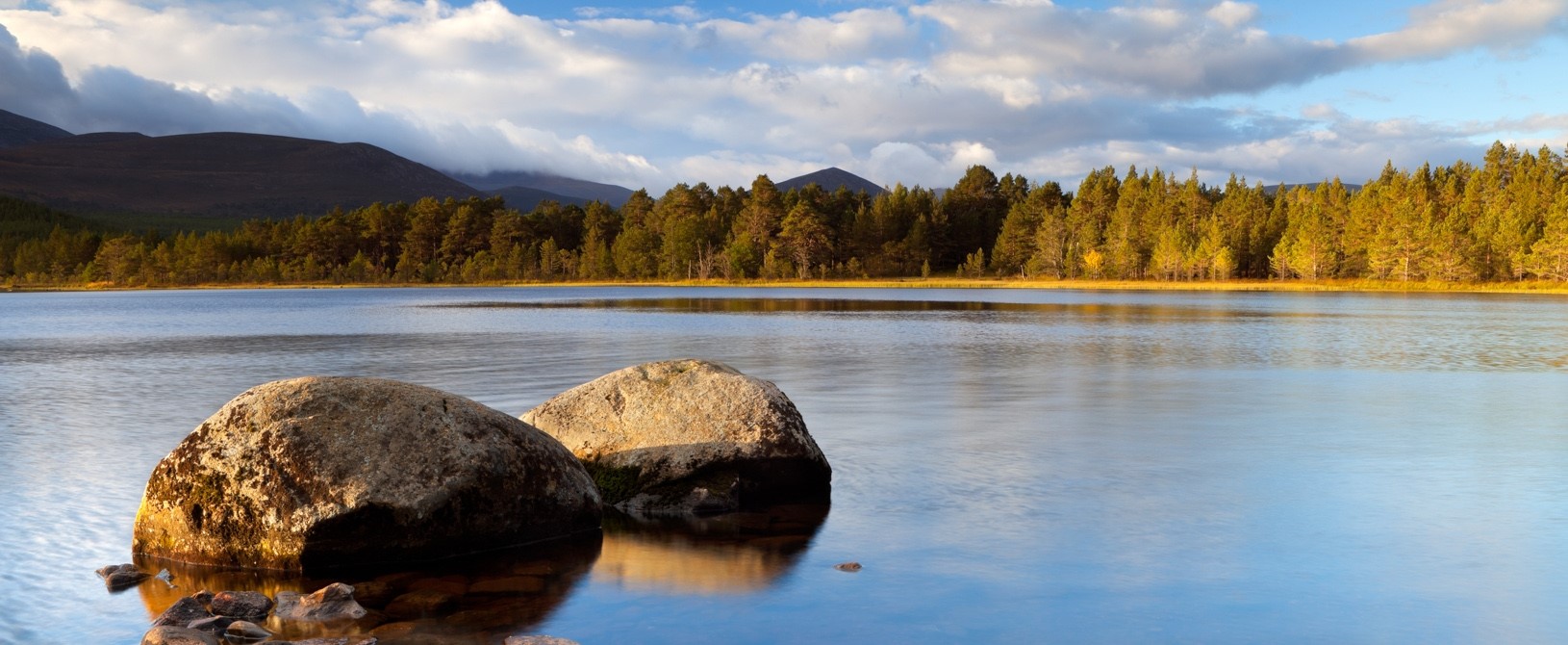 About 20 years ago when we first organised our own coach itineraries, one of the most popular excursions was a circular route that included Dunoon and Tighnabruaich. The views over Loch Riddon and Loch Shriven were spectacular, however the narrow road high above Loch Riddon was not easy to negotiate. A large outcrop of rock on a particularly tight corner caused many problems and finally the roads department closed the route to coaches altogether. After several years of campaigning by the tourist board, the corner has finally been straightened and the road re-opened enabling us to reintroduce this popular tour into our programme.
Dunoon, with its grand waterfront buildings was a favorite holiday destination for Glaswegians in Victorian times. Much later it became host to the US navy who based their nuclear submarine fleet there. As the cold war ended the base was closed, but, although somewhat faded, the town is still well worth a visit. In contrast, the unspoiled village of Tighnabruaich is delightfully situated on the shores of the Kyles of Bute and is the perfect place for a tea stop. Until the 1960's its only real contact with the outside world was by boat! Even now it has the feeling of a village set in past times.
Letter From America - Continued
Regular readers may remember the letter in the last edition from a Mr Strohbeck of Ohio enclosing a photo taken of the staff at the Inversnaid hotel in 1944 while he was in the UK serving with the US army. We later wrote to Mr Strohbeck offering a return visit. This is his reply:
Dear Mr. Wells
What a kind, generous offer you have extended to my wife Ruth, and me to be your guests at the Inversnaid Hotel. Countless times over the past years I have thought about a return visit. Like so many things it was postponed for later action. The receipt of your letter prompted serious consideration of accepting the invitation. After Ruth read the letter she was mentally packing her suitcase!
My previous letter told you I remain quite active volunteering at our local botanical garden, keeping busy in my little wood-working shop, and helping with church needs. After much soul searching, it seems wise not to join you in Scotland and alter that schedule.
How special that you used my letter and the picture in the "Lochs and Glens News". We were impressed with its circulation. Enclosed is another picture to add to your collection. Thanks for this opportunity to reminisce, and your part in making it happen.
Sincerely, Robert C. Strohbeck.