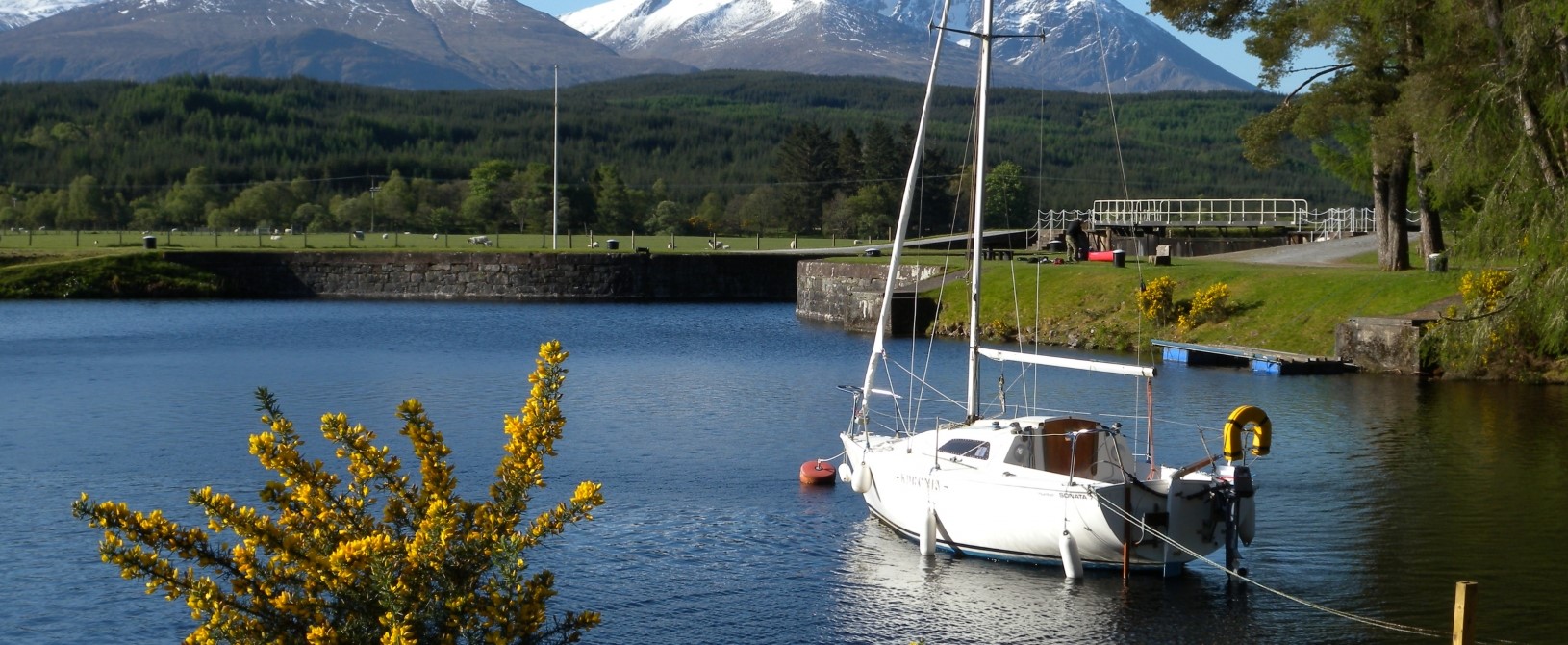 The cover picture chosen for this edition is of a snow covered Ben Nevis in early May. In the foreground is a section of the Caledonian Canal, that masterpiece of civil engineering constructed early in the 19th century. With its completion, sea going vessels were able to travel between the east and west coasts of Scotland avoiding the perilous and frequently stormbound waters to the north.
A towpath extends along much of its length providing delightful walking, with stunning views across to the Grampian Mountains, and guests staying at our Highland Hotel in Fort William can, if interested, enjoy a pleasant afternoon's stroll along the canal bank. A train from Fort William takes just 10 minutes to Banavie Station located at the base of Neptune's Staircase - the series of eight locks that lift ships from sea level to the start of the main canal.
There is just the one train a day, but at present it conveniently leaves Fort William early in the afternoon to return some four and a half hourslater - a perfect opportunity to get some exercise!
When the prospect of deep economic recession loomed at the turn of the year we were naturally pre-occupied with the effects that it might have on our company. It was a worrying time and many a meeting was spent considering all options.
In the event our fears seem, so far at least, to have been unfounded. Bookings, surprisingly are up on the previous year and future business levels look firm. We would like to think that this is because in times of financial stringency people become more determined to get value for money. Another reason may be that the increasingly stressful airport experience and unfavourable exchange rates deter some from overseas travel. But I believe the most significant factor is the increasing numbers of first time guests who have booked on the recommendation of our regular clientele. For this help we are indeed grateful.
Maintaining quality and value is a challenge at any time, but in the present financial climate it becomes paramount. However, you can rest assured that we will be doing all we can to meet, and hopefully exceed, your expectations.
Michael Wells - Chairman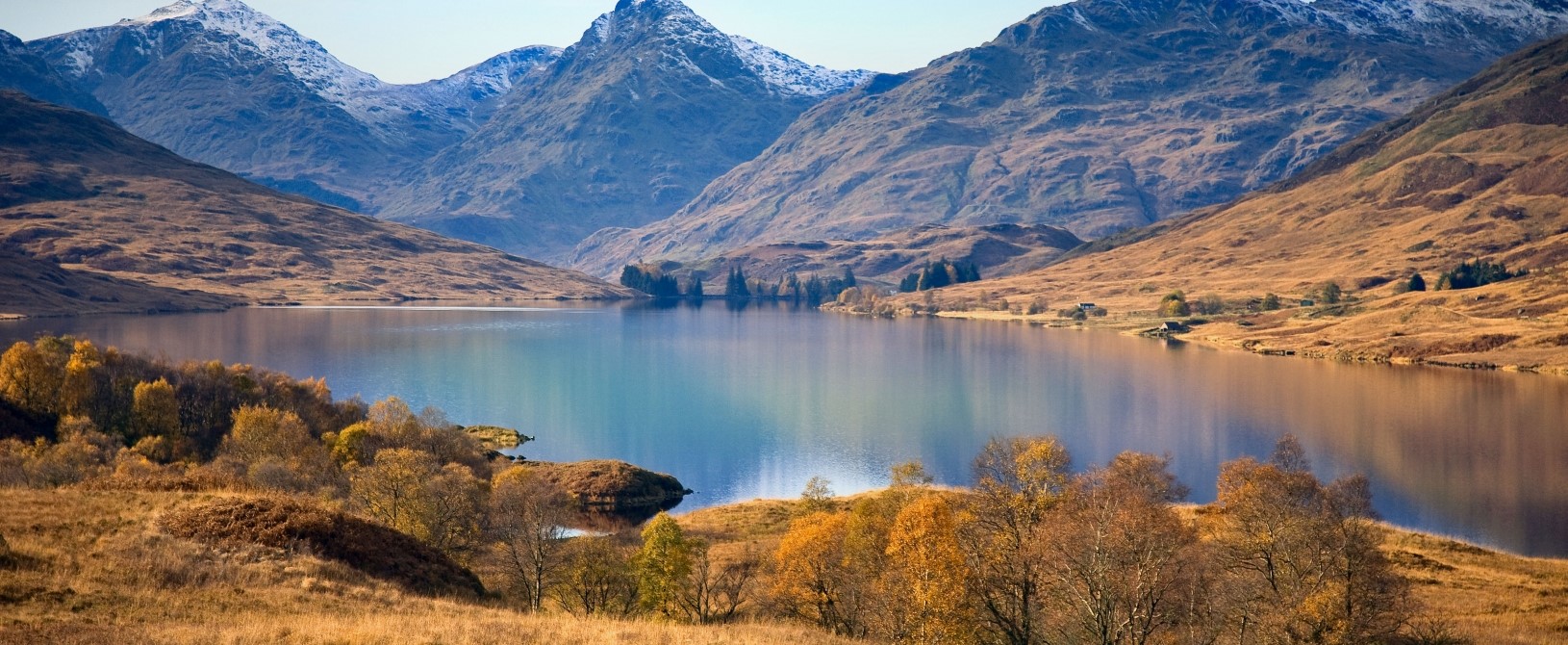 Lochs and Glens guests staying at the Inversnaid Hotel will probably have crossed Loch Lomond on our ferry boat 'Arklet' - at least once and probably several times. In fact we have calculated that since it entered service with us in 1986 there have been over 1.4 million passenger crossings!
In all this time I wonder how many guests have given a thought about the vessel's history as they sail between Inversnaid and Inveruglas.
Originally Arklet was one of 4 launches provided for the Kungsholm - the last transatlantic liner to be built for the Gothenburg - New York run. It had been commissioned by the Swedish America line and was launched at the John Browns shipyard near Glasgow on 14th April 1965.
The timing was not good as it came into service just as transatlantic travel was moving from sea to air and in 1975 the Swedish America Line was dissolved.
In 1978 the Kungsholm was sold to P&O and was reborn as the Sea Princess, a glamorous newly refurbished cruise liner. It found fame when it was chosen as one of the ships to be used in the TV series 'The Love Boat' and it had great success cruising throughout the world, its four launches being used to transport passengers from anchorage to port whenever mooring alongside a dock was not possible. However after some years it was decided that the launches should be replaced as they had a tendency to overheat in tropical waters.
Two of the original four found their way to a London boat dealer where I first saw them looking rather forlorn on a mud-bank in the River Thames early in 1986. A deal was struck for one of them and arrangements made for its overland transport to Loch Lomond.
Fortunately my younger son Neil, now our Managing Director, had just turned 18 and had some free time between school and university and between the two of us we brought the vessel back to good order. Neil recalls spending three weeks stripping numerous coats of paint from the hull and clearing bucket loads of sand from the bilges, no doubt brought in from assorted beaches throughout the world on the feet of cruise passengers.
I certainly remember many 12 hour days getting her ready for her inspection by the marine authorities from whom it received a certificate of sea-worthiness.
Those early do-it-yourself days are long gone. Arklet has since had a new superstructure to provide extra protection, a new engine and is regularly maintained by professional marine engineers, but the Kungsholm's fate has been rather more chequered.
In 1995 she was renamed 'Victoria' until 2002 when she was sold to a German Tour Operator who changed her name to 'Mona Lisa', but sadly the company was declared bankrupt in 2006 and for a while the ship was laid up in Athens.
In 2007 she was re-born yet again. Now she was re-fitted to become part of the Scholar Ship International Program, a cooperative venture between universities designed to offer undergraduates educational voyages. Her name changed once more, this time to the academically sounding 'Oceanic II'.
For whatever reason this arrangement seems not to have lasted and since 2008 she has become a 'Peace Boat', reverting once again to the name 'Mona Lisa'. She is operated by an organisation dedicated to ending armed confl ict throughout the world. I wish them good luck with that!
By contrast Arklet's life has been routine, serenely sailing back and forth across Loch Lomond, little more than 30 miles from the shipyard that built her 44 years previously. We have sometimes thought about a replacement, but there is something comforting in relying on a vessel that was originally designed to be used as a lifeboat able to withstand the very worst North Atlantic weather.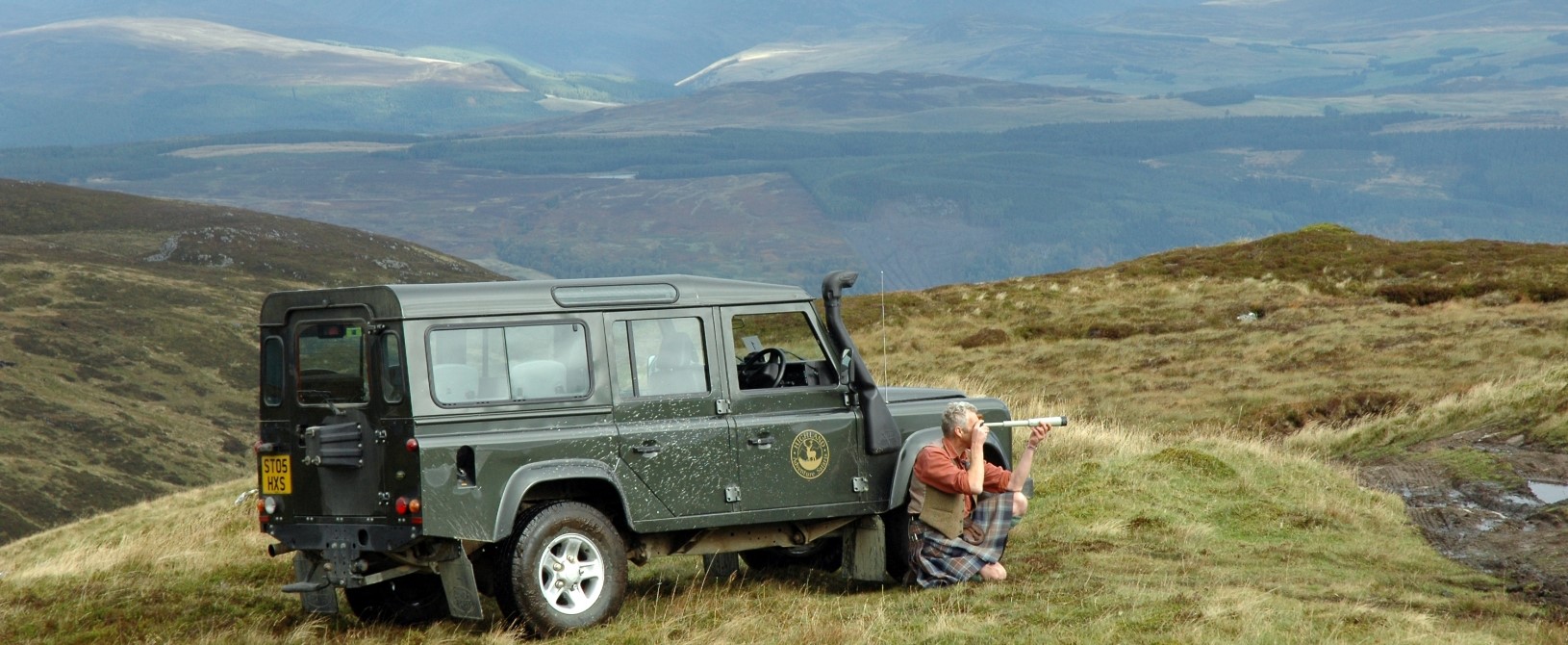 An exciting new excursion - a highland safari, is being included in some Loch Tummel Hotel itineraries during September 2010. Guests will be transported by Land Rovers into the unspoiled wilderness of the Scottish Highlands. Binoculars, and wildlife identification sheets will be provided and each vehicle will be under the command of a knowledgeable safari ranger. Bring your camera as there should be no shortage of photo opportunities. You may even be lucky enough to see the majestic red deer, the famous grouse, the elusive mountain hare and the soaring golden eagle, but most of all the safari will provide a new insight into this amazing natural wilderness and how we can best protect its future.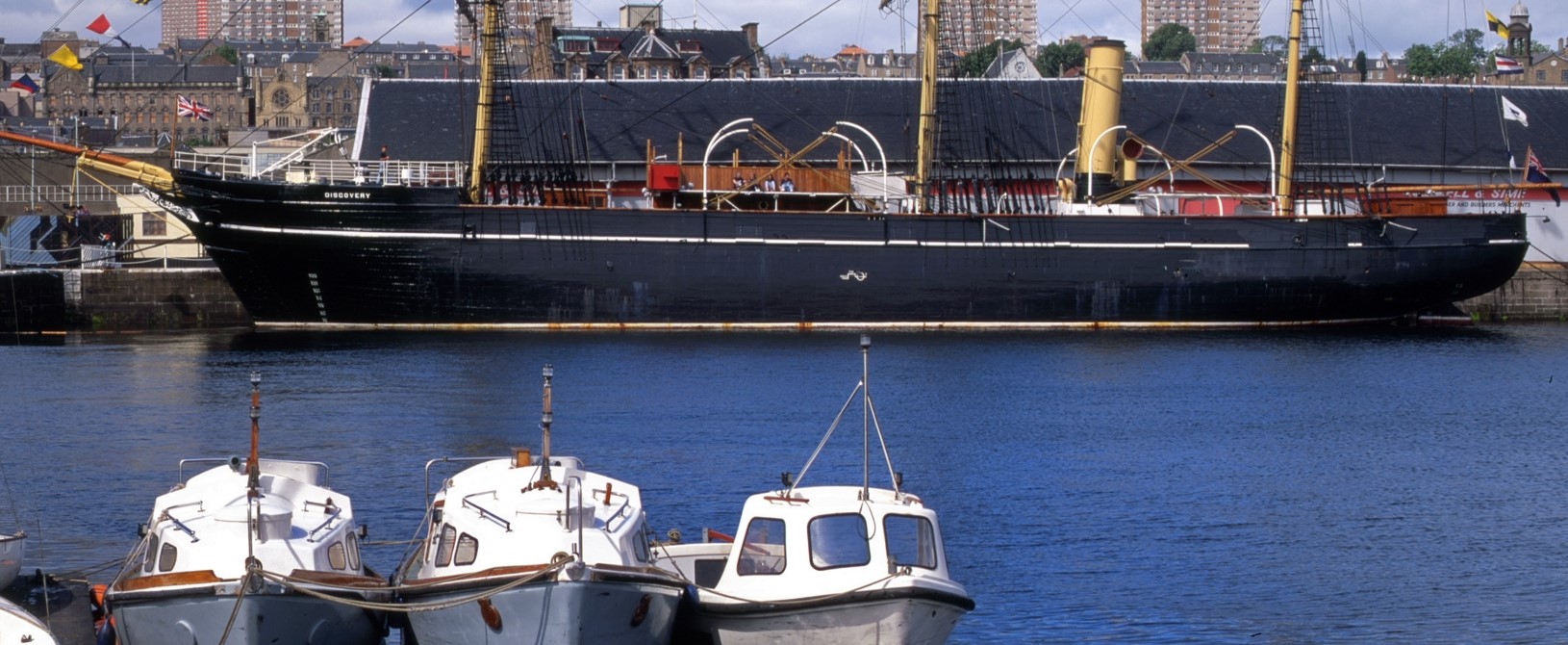 For the first time Lochs and Glens Holidays are able to include a tour of the remarkable ship, the RSS Discovery that has recently been fully restored and is the main attraction at Discovery Point in Dundee.
Discovery was the first ever purpose built research vessel. Construction began in March, 1900 and she was designed for work in Antarctic waters with a massively built wooden hull designed to withstand being frozen into the ice. The propeller and rudder could be hoisted out of the way to prevent ice damage and although she was one of the last three-masted wooden sailing ships to be built in Britain and relied mainly on sails for propulsion, she was fortunately equipped with a steam engine which would prove to be invaluable in the difficult Antarctic conditions.
She sailed from the Isle of Wight in August 1901 under the command of Robert Scott who, ten years later, would achieve fame for his heroic but tragic efforts in attempting to lead the first expedition to the South Pole.
The Antarctic coastline was sighted in January, 1902 and the anchor dropped in McMurdo Sound. Unfortunately, this was where the ship would remain, locked in ice, for the next two years. The expedition had expected to spend the winter there and move on in the spring.
Despite this, and allowing for the fact that there was an almost total lack of Antarctic or Arctic experience within the 50-strong party, the expedition was able to determine that Antarctica was indeed a continent as well as recording important biological, zoological and geological findings.
At the end of the expedition it took the combined efforts of two relief ships and the liberal use of explosives to free Discovery from the ice and she finally sailed for home, arriving back at Spithead on 10 September 1904.
A number of tours staying at the Loch Tummel Hotel next year will include a visit to Discovery Point in their itineraries.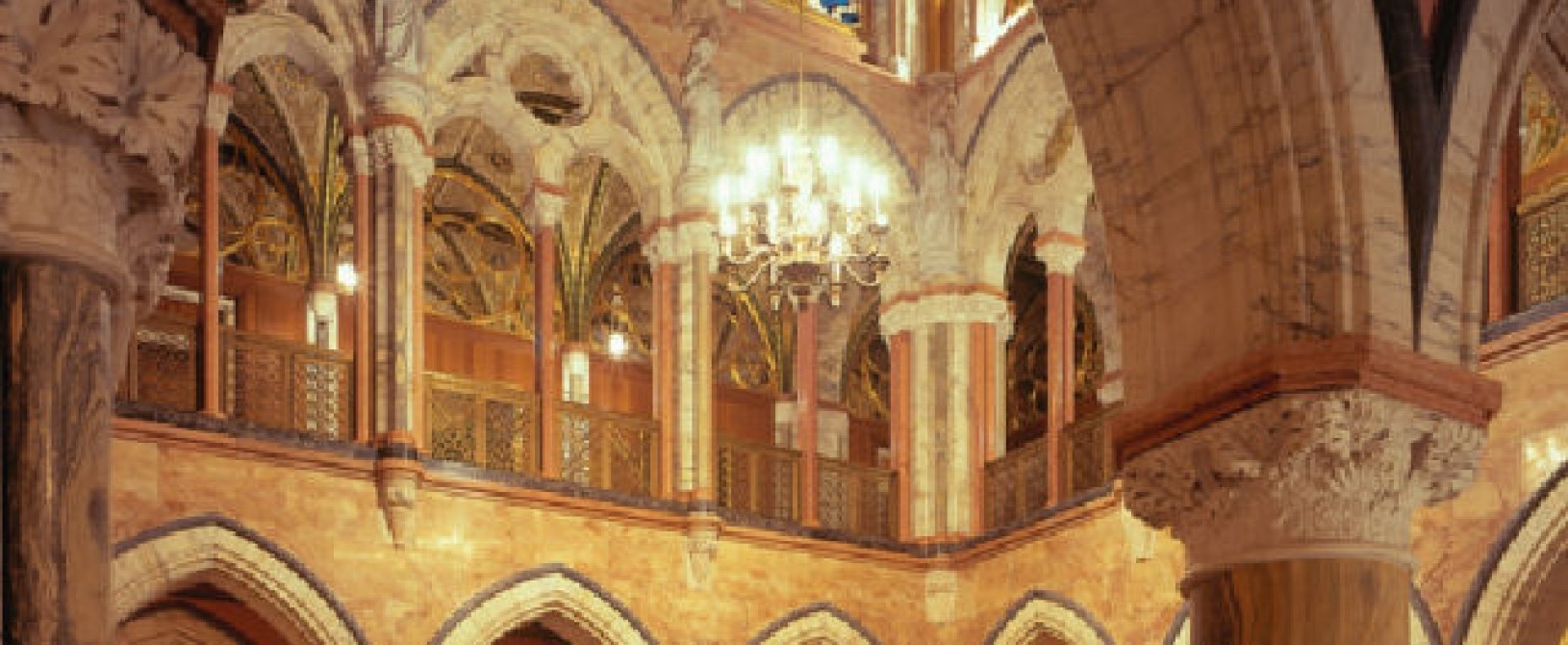 Mount Stuart, perched on a cliff top near Rothesay on the Island of Bute is considered to be Britain's most spectacular Victorian Gothic House. It is an architectural fantasy with no expense spared in its construction during the 19th century. Its exterior has the appearance of a Venetian Palace, and the interior is truly breathtaking with a profusion of stained glass and marble.
After a tour of the building, visitors are free to explore the grounds including the delightful 8 acre 'Wee Garden' created in 1823. The more energetic might like to stroll down the beautiful Lime Tree Avenue which leads visitors to an idyllic stretch of sandy shoreline.