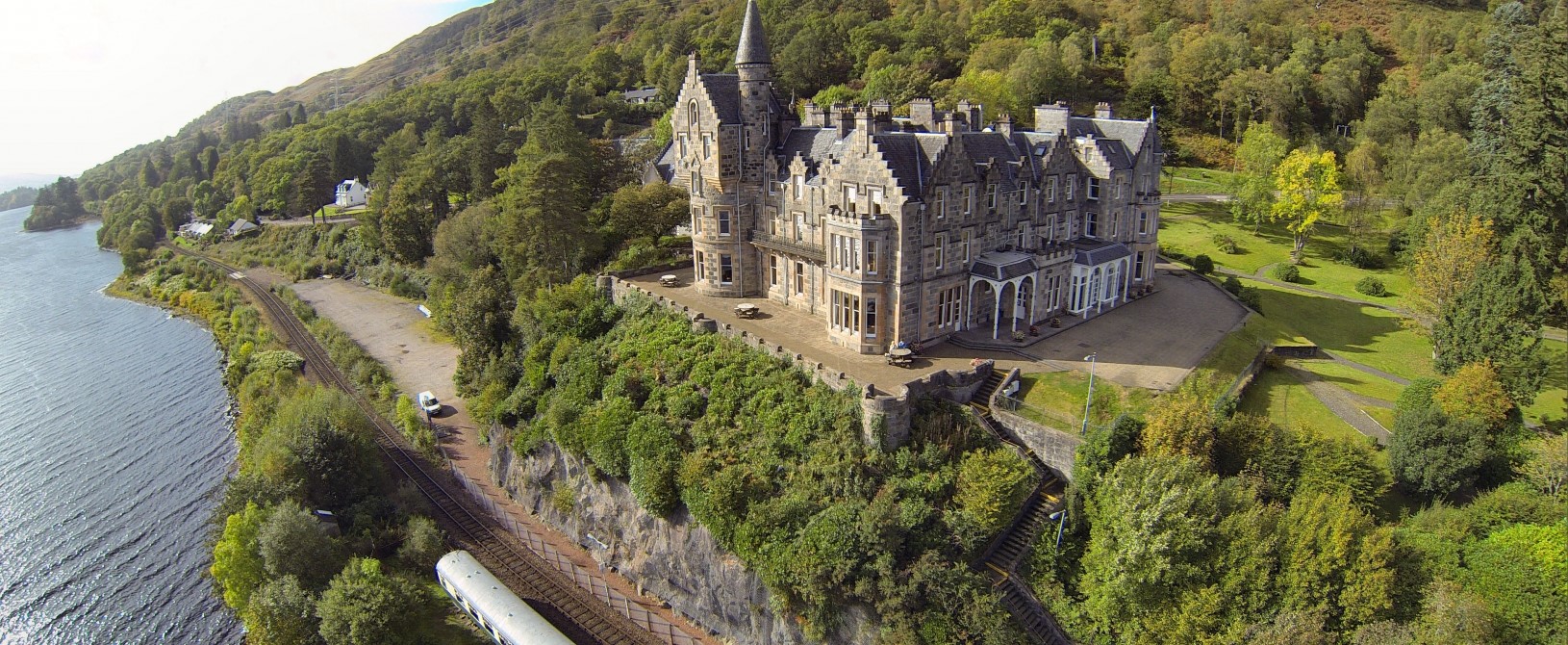 Since retiring fifteen years ago, when my son Neil took over as Managing Director, I have valued any contribution that I am still able to make to the Company. Putting together this twice yearly newsletter gives me great pleasure, but my passion is photography and, whenever time and weather permit, I enjoy travelling to some of the more picturesque parts of Scotland to get that special photo to add to our image library.
For the past few months this has been helped by the acquisition of a photographic drone which is able to get shots from a viewpoint that would otherwise not be possible. The above picture of our Loch Awe Hotel, which was taken after a fair amount of flying practice (and the odd mishap), was captured during the first attempt with an attached camera. It would probably have been better to have taken the photograph from further out over the loch but, at the time, there was still a lack of confidence in the drone's navigational ability to return safely!
We have had a busy time during recent weeks getting through a programme of repairs and refurbishment to the hotels. The dining rooms at the Loch Achray hotel have undergone a total transformation, but the most extensive job has been at the Inversnaid Hotel where a wing has been stripped back to the basic structure then totally upgraded. We originally built the extension in 1985, a year after purchasing the Inversnaid Hotel, when money was extremely tight and we have since regretted that we had not been able to construct to standards that we take for granted today. We are delighted with the result, although Neil tells me that the refurbishment bill is considerably more than the entire cost of the original construction.
You may recall that in last Autumn's newsletter we published the winning entries in our holiday writing competition. At the same time we said that runners-up entries would be printed in future editions, and I am pleased to say that two more appear on the following page. Congratulations therefore to Mrs. S Jones and Mrs. Van der Tang for their two excellent articles. A voucher for £100, redeemable when next booking a future Lochs and Glens Holiday, is winging its way to each of the entrants.
Finally, thanks to all of our readers who write to us by mail and email, many with enclosed photographs. They really are appreciated. I am only sorry that we haven't the space to include more.
Michael Wells O.B.E., Chairman