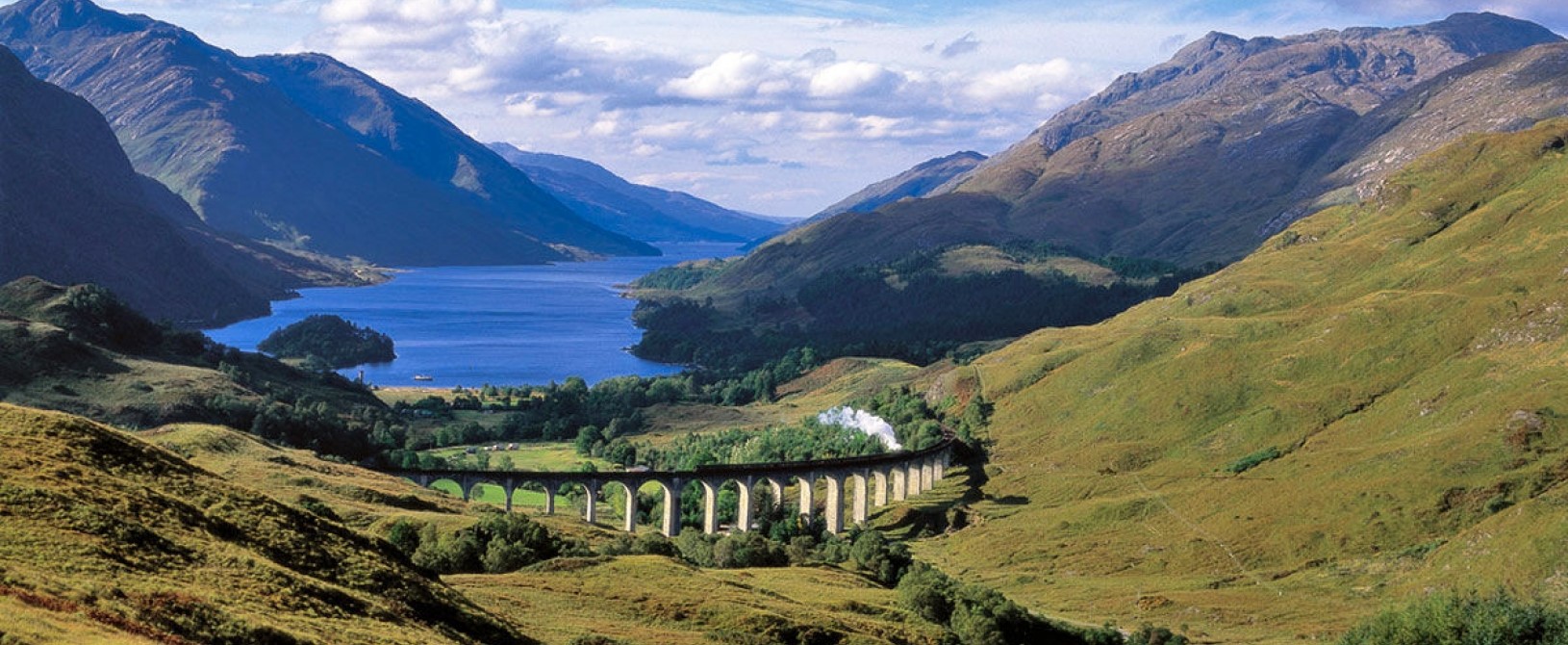 This edition of our company newsletter has something of a railway theme running through it. There is an article describing how train travel affected Lochs and Glens Hotels in times past, and there are details of an exciting new excursion aboard the UK's highest railway.
Our cover picture shows the Jacobite steam train crossing the iconic Glenfinnen Viaduct, just one of the highlights of the superb rail journey from Fort William to Mallaig, a favourite day excursion in the Lochs and Glens calendar. Some time ago the Wanderlust Magazine Travel Awards included a new category, 'The World's Best Rail Journey'. You might be surprised that the winner was not the train to Machu Picchu, nor Switzerland's Glacier Express, not the trans-Australia railway or even Canada's Rocky Mountaineer. No, it was our own West Highland Line journey to Mallaig.
Two years ago we ran a competition to find the best written description of a Lochs and Glens day trip experienced by one of our guests. We had an excellent response with six of the entries being included in subsequent issues of our newsletter. They proved to be so popular with our readers that we are running the competition once again.
The writers of the two most interesting descriptions will each be awarded a complimentary Lochs and Glens holiday for two, at a date to be agreed, and their entries will be printed in the Autumn edition. Any runners-up whose entries are subsequently printed will each receive a voucher for £100 redeemable against a future Lochs and Glens Holiday. If you are somebody who keeps a journal or diary or has a good turn of phrase and be able to convey the atmosphere of the day in no more than 400 words please do submit an article either by email (competition@lochs.com), or by post. Good Luck.
When we receive first time enquiries from guests we are always interested in how they have heard about us. It can be as a result of a newspaper advertisement, sometimes it's from browsing the internet but surprisingly often its as a result of a recommendation from one of our guests. We really do appreciate these referrals and so if you know of somebody - friend, neighbour or relation perhaps - who you think might enjoy one of our holidays, please do send us their address and we will forward them a copy of our current brochure.
But whether you are a first time guest or one of our many regular travellers, we do look forward to welcoming you to Scotland sometime soon.
Michael Wells OBE, Chairman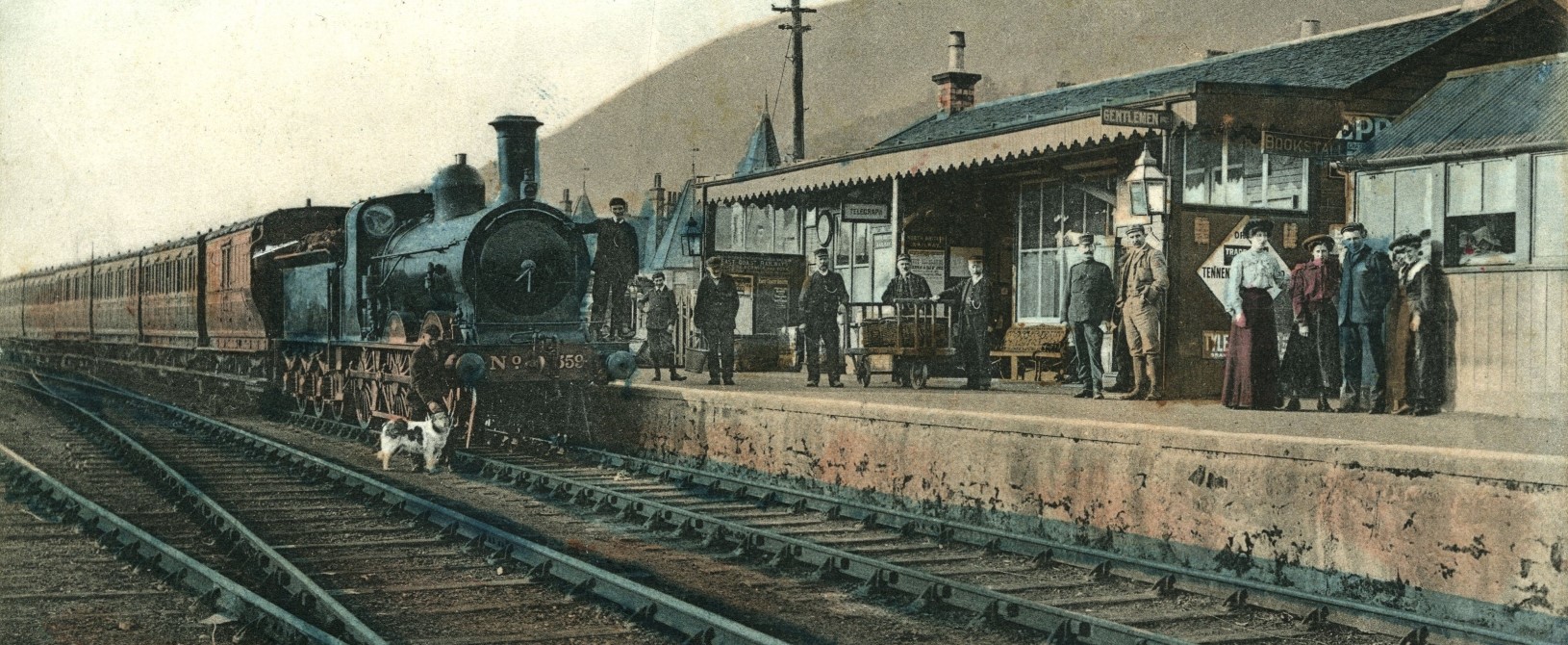 Until the 1960's railways played an important part in the development and success in several of our Hotels.
First to benefit from the introduction of the rail travel was the Inversnaid Hotel which had opened in the 1820's. At first guests relied on horse drawn transport to get to Balloch where they would board one of the recently introduced Loch Lomond steamers that transferred them to the Inversnaid pier.
In 1850 however, the railway arrived at the southern end of Loch Lomond. The terminus, originally named Balloch Wharf, later Balloch Pier, gave easy access to the delights of Loch Lomond in general and Inversnaid in particular which was becoming a fashionable destination after Victoria and Albert included a cruise on the loch on their way to Balmoral. The station remained in service right up until 1986 when the last loch steamer went into retirement.
In 1870 Callander Station opened together with the first stage of the Callander and Oban Railway. This heralded the start of the famous Trossachs Tour, an ambitious circular day trip from Glasgow that included a train journey to Balloch, steamer to Inversnaid, horse drawn carriage to Stronachlachar, another steamer to the Trossachs Pier another carriage to Callander and finally by train back to Glasgow, by all accounts a fairly exhausting day. Callander station had a life of 95 years, its closure in 1965 being part of the infamous Beeching Axe.
Aberfoyle Station opened in 1882 by the Strathendrick and Aberfoyle Railway Company. The line was originally intended to extend all the way to Inversnaid. However the Duke of Montrose, who owned much of the land in the Trossachs, was opposed to the scheme and instead, he helped finance a toll road linking Aberfoyle to Loch Katrine. This road, known as The Dukes Pass, familiar to our regular Lochs and Glens guests, reduced the time needed for the arduous Trossachs Tour and so this business switched from Callander to Aberfoyle.
When the Loch Achray Hotel opened in 1932 many of its guests arrived via Aberfoyle Station increasing passenger numbers on the branch line. But after the war greater car ownership began to affect the viability of many Scottish branch lines and in 1951 the passenger service to Aberfoyle was withdrawn.
Our Highland Hotel in Fort William had a rather more tenuous association with railways, or rather an association that never came to fruition. On its completion it was named the Station Hotel in anticipation that it would be adjacent to a proposed high level station on a branch line from Oban. The Oban and Callander Railway had submitted an application to construct this route and it was approved by Act of Parliament in August 1896. However, when faced with financial difficulties and considerable hostility from the North British Railway Company, who had already arrived in Fort William two years earlier, the line was stopped 25 miles short at Ballachuilish. As a result the name of the hotel was quietly changed to The Highland Hotel.
Loch Awe Hotel was also a child of the railway. Lochawe Station had opened in 1880 and was an important staging post for cargo and passengers transferring to steamships that supplied the country houses and small communities around the lochside that, at that time, did not have road connections. Construction of the Loch Awe Hotel began in 1881. It was originally perceived as a railway hotel with a luggage lift that operated from the front of the hotel down onto the station platform.
Sadly, better roads led to the demise of the steamships and eventually, with declining use, the station closed in 1965.
It would stay closed for 20 years until after a long campaign and, with the assistance of funding by the then hotel owners it reopened with just a single platform in 1985.
Today, it remains a valuable asset to the hotel with many of our guests using the train for day trips to Oban or Glasgow.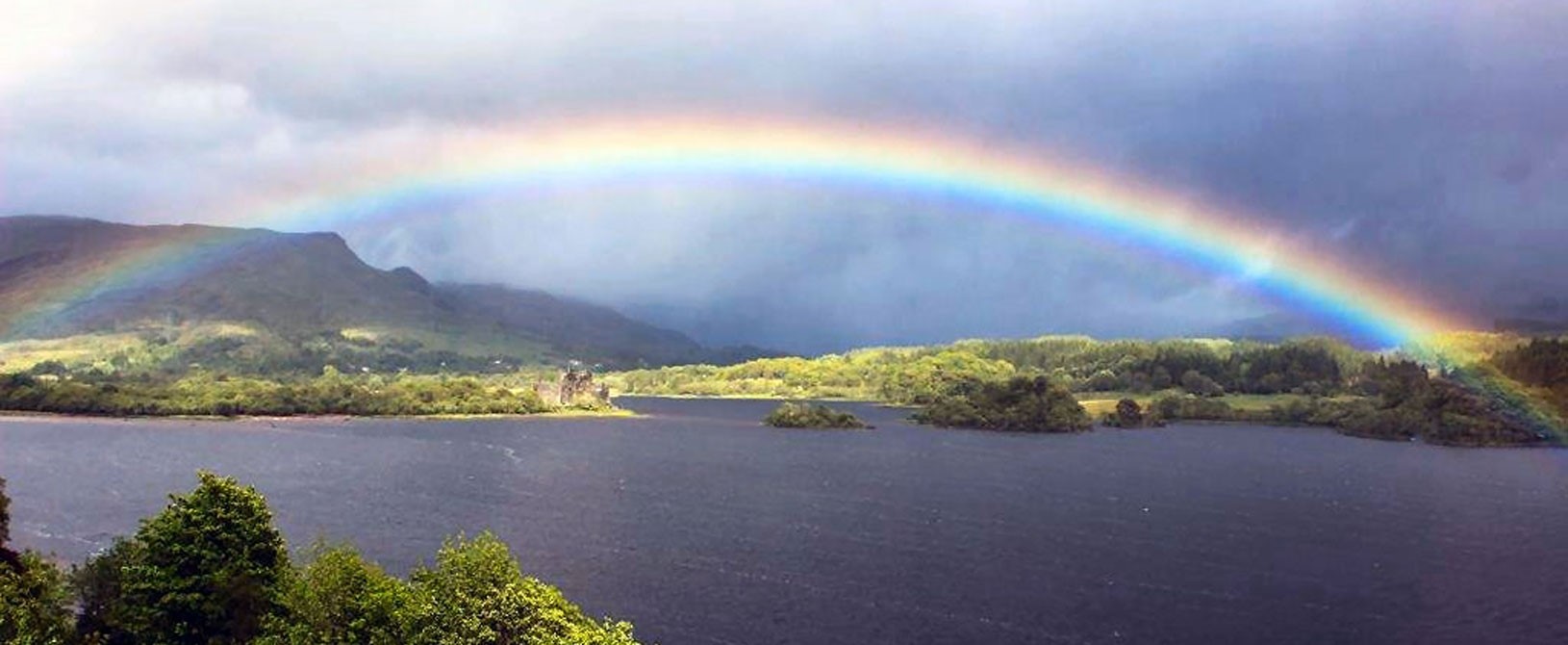 These ravenous youngsters eagerly awaiting their next titbit was taken at the oldest tennis court in Europe, at Falkland House and Gardens, whilst we were on our recent Lochs & Glens National Trust tour.
Bob Griffiths, Bridlington
Having just completed our holiday with you at Loch Awe, I am writing to compliment you on another excellent holiday - despite the weather. Your driver Francis, kept us well informed and was very humorous. Thank you for allocating me a fantastic room with a view of the castle and, as you will see from the attached photo I was rewarded with the sight of an unbelievable rainbow over Kilchurn Castle and Loch Awe.
Many thanks. Will be posting positive comments on Trip Adviser shortly.
Malcolm Brocklehurst, Chard, Somerset
First Visit Poem
Sculpted by nature's creative hand
Majestic Mountains proudly stand,
While down below lies the Glen
It beauty still unspoilt by men.
The many Lochs run deep and long
Often extolled in verse and song.
These sights art here for all to see
And nature's tapestry is given free.
The reason why this poem I pen
To say thanks for the experience from 'Lochs and Glen'..(s)
Ron Rogers, Winterbourne, Bristol
Icing on the Cake
Thank you so much for the £100 voucher for my story, it was such a lovely surprise.
At the time the competition was announced I was in hospital with a broken knee - only a fortnight before my Lochs & Glens holiday to Ardgartan - feeling very sorry for myself, Lochs and Glens brochure arrived and it was suggested that I entered the competition.
I surrounded myself with photos of all my Lochs and Glens holidays and had a wonderful time reliving all the walks, excursions and experiences I had encountered.
So choosing one particular day and writing about it proved to be such good therapy for me and kept my spirits up. At the end of a very difficult year, I finally made it to Ardgartan for Mountains & Mistletoe!
When I go on Lochs and Glens holidays I always meet happy people because not only are they looked after by such caring staff but most of all they are each made to feel special which is a magic ingredient of Lochs and Glens holidays.
The icing on the cake for me would be if you would donate the value of my voucher to Cancer Research.
Muriel Stephens,
Gt. Bromley, Essex
You are never too old!
I am sending you a picture of the latest recruit to the Lochs & Glens fan-club! Joan Kersey
and I stayed at the Ardgartan last week and had a wonderful time. Joan is 100 years 'young'....her birthday was last February and, as you can see, she is very game and came on every excursion.

Joan is very well travelled - Australia, India etc., but thought her Lochs & Glens experience was as good as any other holiday.
Vicky Cook, Ipswich, Suffolk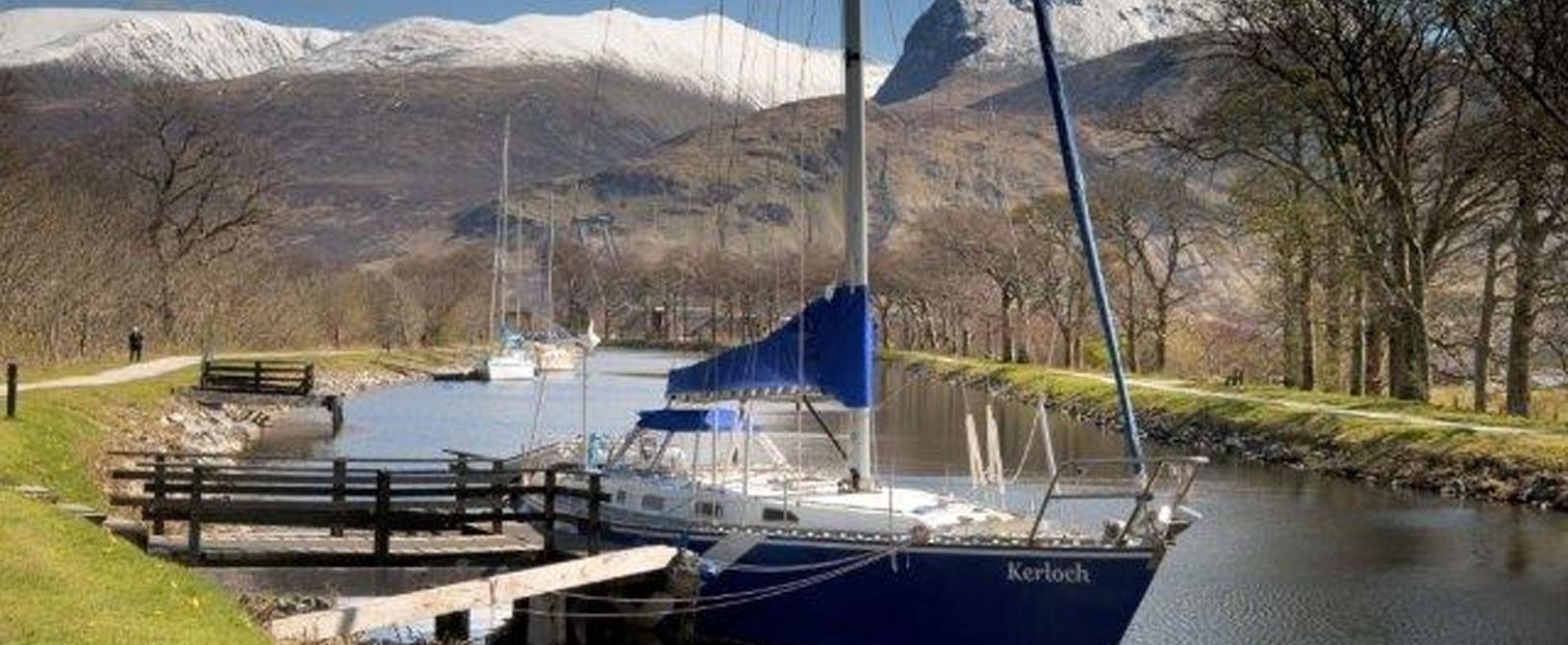 Scotland's Great Glen, the 62 mile long valley that runs diagonally from Inverness to Fort William, is in fact a geological fault with much of the glen taken up by a series of lochs and connecting rivers.
At the beginning of the 19th century the distinguished civil engineer Thomas Telford began work on designing a canal along the length of the glen. The plan was to connect the Pentland Firth in the northeast with Loch Linnhe in the south west enabling sea going vessels to avoid the dangers of navigating the treacherous waters around the north of Scotland.
It was an immense undertaking needing a workforce of 3,000. Work commenced in 1803 and was not finally completed until 1847. The work was arduous particularly during the harsh winter weather. Construction was by the use of picks, shovels and wheelbarrows together with the brute strength of the workforce.
Wages, food and living accommodation were poor but after pay day, which was once a month, the workers took to drinking and quarrelling, and spent as much money on whisky as would have fed them comfortably for the whole month."
Commercially, the venture was not a success, but the dramatic scenery through which it passes led to it becoming a tourist attraction. Queen Victoria took a trip along it in 1873, and the publicity surrounding the trip resulted in a large increase in visitors to the region and the canal.
Since its opening, the Caledonian Canal has been in continual use and is still busy today with commercial traffic, fishing vessels, yachtsmen wishing to transit safely from the east to west coasts but mainly by the leisure industry where cruise boats based in Inverness can be hired to cruise the canal and the lochs.
And now you too can enjoy the majestic scenery of the Great Glen. During the 2017 season cruises along a section of the canal will be included in the itinerary of several of the Highland Hotel holidays. It should be an unforgettable experience.
The Cairngorm Mountain Railway, which opened in 2001, is the highest railway in theUnited Kingdom. The two kilometer long funicular ascends the northern slopes of Cairn Gorm, Britain's sixth-highest mountain.
The railway operates very differently in winter and summer. In winter the priority is to get skiers up the hill, so the train takes just five minutes to cover the journey between the two stations, and each train can carry up to 120 standing skiers. An important feature is the train's ability to operate in winds of up to 75mph. This is a vast improvement on the 25-30mph wind speed limit of the old chair lifts, which it replaced resulting in them having to stop running on up to 40% of winter days.
In summer the journey is part of a tourist experience and the train takes a maximum of 60 at a lower speed to give passengers a chance to enjoy the superb panorama, especially to the north.
At the top station there is an impressive viewing area as well as an exhibition and an excellent restaurant and bar.
A day excursion which includes an ascent on the funicular railway will be included in a number of 2017 itineraries at the Loch Tummel Hotel.