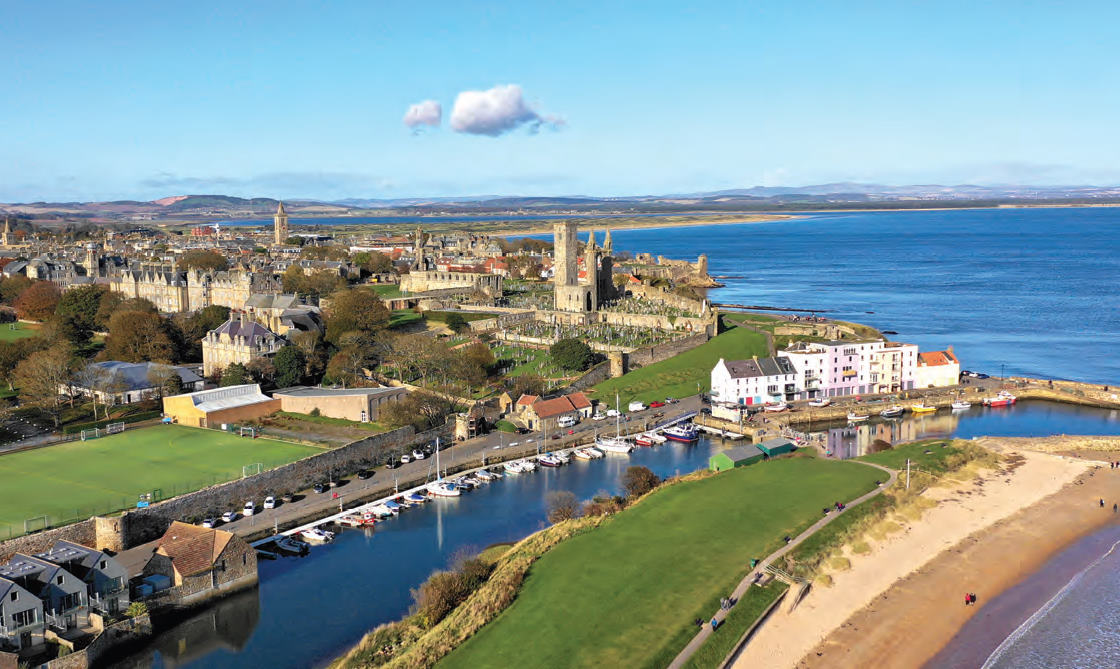 It is over twenty years since I retired and returned to the South of England, passing responsibility for the Company to my son, Neil. I know from experience that managing an organisation with such a wide and varied range of accountabilities is no easy matter but, at no time did I have to deal with such demanding and stressful dilemmas as those presented by the Covid pandemic. To Neil's great credit we have survived strong and unbowed, while many of our competitors have sadly fallen by the wayside. Our hotels have re-opened and bookings are strong although, if there is one thing we have learned during the past 18 months, it is not to attempt to predict the future course of events.
Throughout my retirement I have returned regularly to Scotland, not only to keep in touch with friends and family, but to pursue my hobby of photography amongst the beautiful landscapes in the Michael Wells OBE, Chairman country I have grown to love whilst, at the same time, adding photos and video clips to the Company image library. The above photograph was taken during one of the few visits that have been possible during the past year and it is of course a view of St Andrews, a perennial favourite destination with our guests.
There are very few positives that have emerged from this awful pandemic, but perhaps one is a growing appreciation of the attractions of our own nation and the increasing popularity of the 'staycation'. I realise that this is largely a result of necessity, but I have no doubt that as people discover the beauty and history of their own country, the more they will want to see.
I recently took a commercial flight to Scotland and I have to say that it was a dismal affair, a far cry from the immaculate British Airways service of 20 years ago. However, as depressing as it was, it was nothing compared with the current horrors of international air travel, which in turn will, I am sure, add to the demand for quality domestic holidays.
For our part, we will continue to strive to make our programmes as varied, enjoyable and of course as safe as possible.
Finally, on behalf of our wonderful management team and our much valued staff of 200, I would like to say just how much we are looking forward to welcoming you back to Scotland some time soon.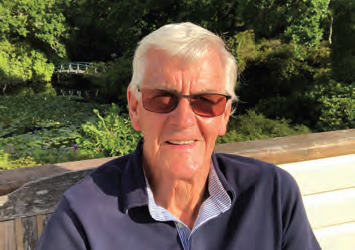 Michael Wells OBE, Chairman
The Vaccination Bus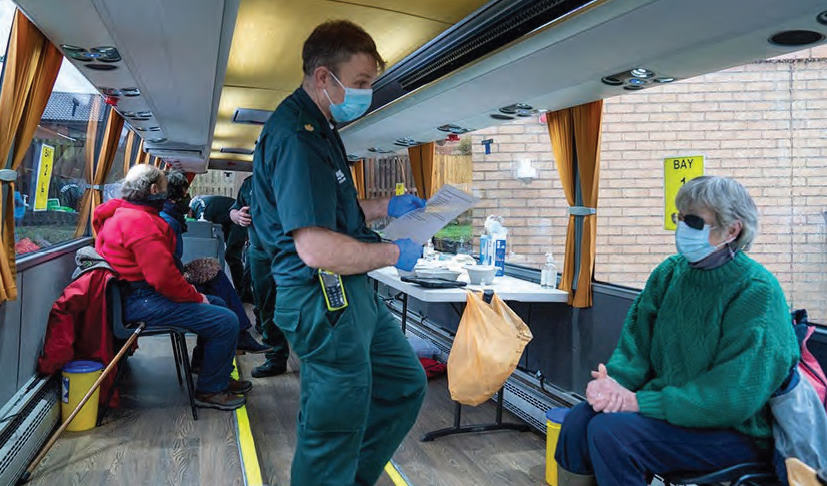 In contrast to the range of unprecedented problems created by the pandemic for our company, one surprising opportunity presented itself.
As our hotels had to close for the duration, and the coaches were being prepared to go into storage, one of our drivers who had transferred into the Scottish Ambulance Service, asked if we could provide a vehicle to help out with the vaccination programme and, naturally we were more than happy to do this without charge. One of our coaches was quickly adapted for the purpose and was soon being operated by the Ambulance Service touring throughout Scotland vaccinating the hard to reach from the elderly and housebound in remote villages in the Highlands to the homeless and clinically vulnerable of inner-city Glasgow.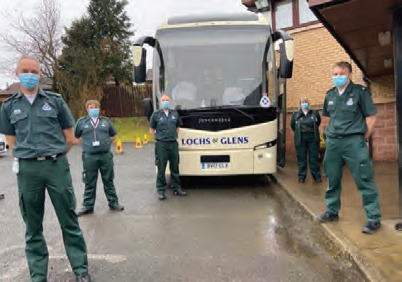 To quote Scottish Ambulance Service Medical Director Jim Ward "This is a great initiative in the fight against Covid-19. We have already vaccinated more than 5,000 of our own staff, Community First Responders and students, which has been a fantastic effort by everyone involved."
He said: "The bus is essentially a mobile vaccination clinic that can access remote and rural Scotland, providing a sheltered place where people can come and get vaccinated in a safe environment by trained healthcare professionals. The accompanying car will allow people who cannot leave their homes to be vaccinated."
Mr Ward said: "We have received great feedback from the people who have been vaccinated on the bus and also by those who have been visited at their homes. We are very grateful to Lochs and Glens Holidays for providing the bus and look forward to working alongside other health boards and Scottish Government colleagues in developing the initiative and rolling it out to other areas of Scotland."
From the Archives... 25 Years Ago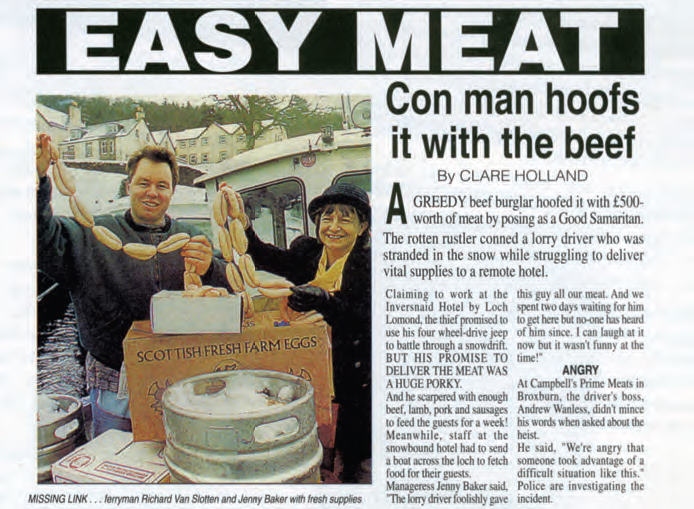 Readers' Views - A selection of your letters and photos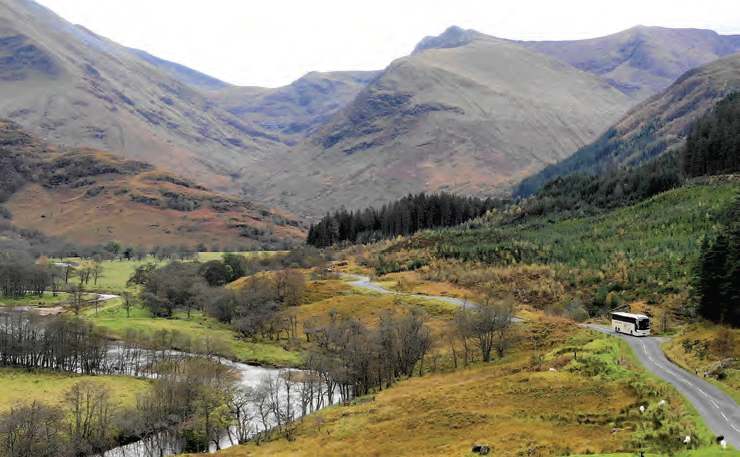 The open road - our coach in Glen Nevis Fred Priddis, London, SW2
The Greatest Company for Scottish Holidays ever!
I have been using Lochs and Glens holidays for over 10 years now. I have never had anything other than excellent service. I have stayed at every hotel. The staff are always friendly and helpful. In this time of crisis and the stories I hear of holiday companies trying to avoid giving refunds and pressing them to take vouchers instead, I would like to tell my story of when Lochs and Glens had to cancel my holiday this March. Within one day of them cancelling the holiday, we had a phone call stating that we would receive a full refund for all our party within 2 weeks. Two of our party accepted the refund, but the rest of us asked them to transfer the payment to our next holiday (which we had already booked) to Loch Tummell in November. How's that for excellent service!
Lyn Soylemez, Trustpilot
Anniversaries
Oh Lochs and Glens what can I say, we should have been joining you for our holiday, One that should have been so special to us, our 50th anniversary we could cuss. But we are used to this situation, it seems even after 50 years it is not our destination, We had to cancel our honeymoon too, how sad, due to the funeral of my dad. But at least we are still together, it's true, still in love, so wouldn't you, Be sad to listen to the news each day, not knowing where and when we can come away. Of course we will never give in to a virus, we stick to the rules, had the jab, no fuss, Another sad part putting me to the test, it will be 9 months till July and my next cooked breakfast. Our thoughts are with you all at this sad time, pressure from every direction it's not a good sign, Be strong, be patient, hold on to those you love, Perhaps come June at Loch Awe or Tummel in August We will still be in love.
Colin Broughton, Stourbridge
Happy customers of Lochs and Glens
We booked and paid for a short break with Lochs and Glens at their hotel Ardgarten on Loch Long Scotland, unfortunately due to the Covid 19 pandemic they had to cancel the trip, without hesitation they contacted us and gave us a full refund. We do not hesitate in recommending the company and how professional they have been throughout this episode and look forward to what will be our second trip with them very soon!
Linda & Philip Hull, Trustpilot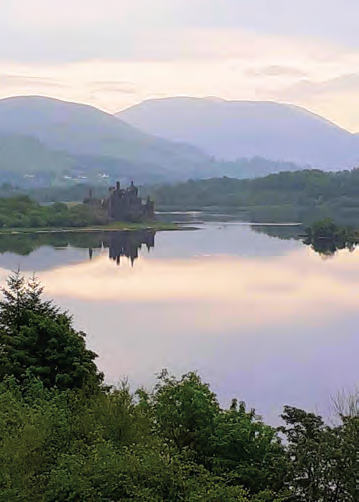 Just wanted to say thank you for our lovely holiday to Loch Awe in June.
Had a wonderful break, enjoyed our trip to Tobermory. Attached is a beautiful picture taken from our bedroom window. Looking forward to planning our next trip.
And Steve our driver was great, very informative about the places we were going to.
Christine Blunn, Lincoln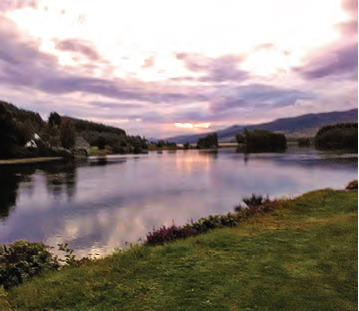 Dear Mr.Wells,
Thank for your newsletter received in mid January. You mentioned that you didn't have a sunrise to go with one of the articles, so how about this one. Taken at the edge of Loch Tummel as we were getting ready for our return journey home to Essex. The hotel was excellent, we had a lovely driver and couldn't find fault with anything, so much so that I booked again for the Highland Hotel for July 2020 which unfortunately had to be cancelled due to Covid, which has been transferred to August. Really looking forward to this one, hoping this goes ahead.
Maureen Montgomery, Ingatestone
Lochs & Glens Coaches
An essential element of a coach holiday is the coach. In the early days of Lochs and Glens when we had just one hotel, we relied on holiday companies, such as Wallace Arnold and National Holidays to provide, not only the coaches, but the booked passengers as well. The great disadvantage of this arrangement was that we were required to reserve the number of rooms needed to accommodate a full coach until a week before the holiday was due to begin, at which time we frequently discovered that the coach was less, sometimes much less, than half filled.
It occurred to us that if we were to organise our own holidays, then hire the coaches direct, we could offer a holiday price that would be far more attractive due to the fact that, as a private family company, we would have far less overheads, and crucially no shareholders or agents to share the revenue.
Our initial experiment was to sell a single fully inclusive holiday locally rather than nationally and we chose Manchester for our first attempt having found a local partner in the form of Finglands Coaches to provide the transport. A very modest advert was placed in the Manchester Evening News, a newspaper that is published at midday. To our astonishment, by early evening on the day the advert appeared, the holiday was fully booked. We quickly arranged for a second then a third holiday to cope with the demand. The arrangement worked perfectly, the guests were delighted with an unexpected value for money and, as a result, a new direction of travel for our fledgling company was established. During the next five years we developed partnerships with over 20 different coach hire companies throughout the UK,repeating the formula established in Manchester. During the same period we were able to acquire three new hotels, the Inversnaid, the Loch Achray, and the Loch Awe.
However, it wasn't all plain sailing, there was an underlying problem in that we didn't employ the drivers and thus were unable to maintain a constant and reliable standard of service and to do this we needed our own coaches. In the Spring 1995 edition of our newsletter the following article appeared announcing the introduction of the first Lochs and Glens Coaches.

They certainly looked the part in their brand new Lochs and Glens livery but, the sharp-eyed might have noticed the 'H' registration plates. They were in fact five years old having been acquired second-hand from Wallace Arnold. New coaches would, at that time, have been prohibitively expensive.
How times have changed. We now have a fleet of 15 coaches operated by a subsidiary company 'Lochs and Glens Transport'. Five new vehicles are purchased each year, thus ensuring that no coach is more than three years old and as such, each vehicle in the fleet is under guarantee by Volvo.
The photo below shows this years vehicles entering service, but these ones are a bit special. To quote the Volvo press release at the time of delivery:
Renowned, family-owned Scottish holiday and coach tour operator Lochs & Glens has taken delivery of five new Volvo B11R 9900 premium specification fully integral coaches. The delivery is a highly significant landmark joint venture for both companies, as it is the first time Lochs & Glens has ever specified a complete Volvo product. These premium coaches feature a Euro VI Volvo D11K 460bhp engine, innovative design, fuel-saving aerodynamics, built in safety and a superb passenger environment, including centre demountable toilet. The vehicle represents a significant leap forward in coach design and technology for Volvo.'