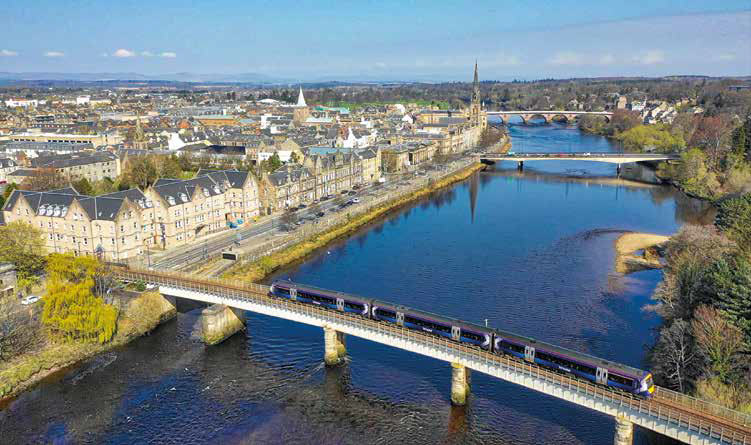 The photograph shown above is of Perth, known as The Fair City since the publication of the novel 'Fair Maid of Perth' by the Scottish writer Sir Walter Scott in 1828 and it continues to be a fair city today in so many respects.
In a national poll it was judged to be the happiest place to live in Scotland based on the friendliness of neighbours, the range of local amenities, and the quality of the local environment.
A visit to Perth has been included in Lochs and Glens itineraries for the past 40 years and the popularity of this smallest of Scottish cities remains undimmed. It is a place with a rich, cultural centre together with award-winning shops but, for our many guests who now prefer fresh air and exercise, there are also a number of excellent riverside walks along both banks of the River Tay.
As mentioned in a previous newsletter, when I retired twenty years ago, I took on the task of keeping the company's Michael Wells OBE, Chairman image library up to date. In the early days it involved carrying a tripod, camera and a range of lens, but our readers may have noticed that over the past few years an increasing proportion of photographs featured in the newsletters have been taken by a drone.
I started using them in 2013 after being inspired by my son Neil, always an early adopter of new technology, and immediately saw the advantage of being able to manoeuvre a camera into exactly the right position. Now that I am entering my mid 80's I am becoming increasingly thankful for the additional benefit of not having to climb to a high viewpoint to capture those panoramic shots.
There have been huge developments in drone technology. In the early days they were heavy and cumbersome needing a sizable rucksack to carry them. They have steadily become smaller yet, at the same time, able to capture better images. The latest model is tiny, it can fit on an outstretched hand and, when folded, slips easily into a pocket, yet is able to produce images with a quality on a par with the most expensive digital camera that was available just 10 years ago
However, with photography there is inevitably an uncontrollable factor - the weather, which I admit can be somewhat unpredictable in Scotland. But in retirement I feel fortunate that my photography is merely a part time hobby rather than a profession, so that if I drive for a couple of hours to photograph a particular place and then, on arrival find it shrouded in mist despite a favourable forecast, I can shrug, put on my walking boots and go for a good hike. There is always another day.
Michael Wells OBE, Chairman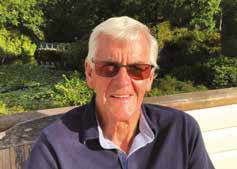 From London to the Inversnaid Hotel - 150 years ago
In 2003, a Mr. and Mrs. Baxter from Essex stayed with us at the Loch Tummel Hotel. They brought with them a copy of a fascinating diary written in 1872 which describes a three week holiday to Scotland taken by Mr. Baxter's great grandfather Frank, when he was just a boy aged five. He was accompanied by his mother, Hattie and Hattie's sister, Mrs. Quy who wrote the diary. They travelled by steamer from London to Edinburgh and then by train to Callander and onward by horse and carriage to the Trossachs and Inversnaid.
Remarkably, together with the diary we have photos of the three intrepid travellers taken at about the same time together with the only known photograph of the Inversnaid Hotel in the 1870's. After reading the description of the dreadful sea trip to Edinburgh one wonders why they didn't go by train, but the railway between London and Scotland had been completed less than 10 years earlier and the Quys, being a seafaring family, may have instinctively chosen to travel by ship.
I have heavily edited the journal to fit the limited space, but it does include description of places that will be familiar to our regular guests.
Wednesday, 7th August 1872
Left from London Bridge for Edinburgh by steamer Ostrich about 12.30pm. Hattie & Frank with myself make up our party. We were soon on friendly terms with a few of our fellow passengers, who kindly gave up a deal of information relative to our visit. Before we had gone far a tempest came on and was rather severe, with heavy rain, got rather wet. About seven o'clock we turned off rather sick as night came on got worse, we had a mattress brought on deck for our use but at about two o'clock am we were helped down to the cabin, but found no room, every berth and nook was filled with some poor sick individual. A kind sailor put my mattress on some camp stools close to the engine and cooking room where I could get in, but of course sleep was out of the question, what with the noise, scent and seasickness, I was nearly bewildered, and yet was unable to move from it, from sheer helplessness. We lay until about 11 o'clock the next morning, when we crawled up on deck feeling still very ill. A gentleman kindly came and helped us to a mattress and rug where I remained until the next morning until about 10 o'clock. Continued very, very sick. One, especially kind gent fetched me an extra rug, my bag with Eau de cologne in it, and applied some to my face and head to my great comfort, he was indeed a Good Samaritan, otherwise I don't know what we should have done, We took nothing for about 42 hours. However we safely arrived at Granton Pier, Edinburgh feeling better but very weak till the same kind Samaritan helped to get our luggage up & saw us off in a cab. We arrived at the Waverley Temperance Hotel in Princes Street, Edinburgh at about 5.15, but could not obtain a bed at once, but a gent vacated his bedroom so that we could go in until a larger one was vacated by someone else. We had some coffee about 8, and about 10 got into our bed.
Monday, 12th August
Breakfast early to leave by train at 8.45 for the Trossachs. On arrival at Stirling we alighted & walked thro' the quaint old town with its equally quaint looking women with their petticoats & linen frilled caps, some bare legs and feet, also were most of the children. Passed thro' the prettiest of cemetery's with its many monuments of interest, amongst them the famous one of two Virgin Martyrs - Margaret Wilson & her sister Agnes who were tied to a stake below high water mark for Christianity's sake. We continued to Callander, an old fashioned town, with posting house in it, where we mounted a coach (and crammed, we were too rather uncomfortable so) but as we went along, the beauties of the scenery dawned upon us, and I may say increased in its beauty at every turn of our heads, sometimes we found ourselves upon a road elevated at an alarming height from the valley beneath us and almost at the same time we were by the side of some sweet loch, or gentle stream running down in a silver-like manner to our horses feet. On entering the Trossachs, our delight and exclamations increased. Our Scottish coachman gave us all the information he knew about the way (which was no little as he had driven thro' the pass 35 years and never had a single scratch as he said - his Scottish brouge was at times scarcely understandable by us - 10 miles we drove, thro' fern dells, hills and slopes, until we thought nothing could be much more beautiful. However we arrived at the beginning of Loch Katrine and what we had seen was just a peep at the beautiful. The spot seemed all but a hallowed one, we were only a few in number on a miniature steamer clean & free from all the late sad scene of the sickness). But there we sat in the full enjoyment of the gorgeous and sublime beauties of nature before us. The soft gentle mountain air came upon "with healing on its wing" it seems to me that one might find comfort there under almost any trial, that is if a taste for the beautiful is in the heart.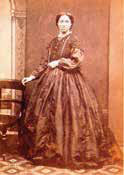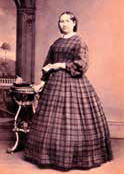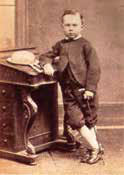 On our arriving at the end of the loch, we went on shore at the Stronachlachar Hotel, waited a short time & then started again in an open coach for five more miles of mountain slopes, the last of which the mountain torrent was rushing past us, at some time it was nearly out of sight, the ravine so deep beneath us and yet so very near. We arrived safely at the Inversnaid Hotel, the end of our journey for that day. We found the hotel unusually crowded, however as we were the bearer of a note of introduction to the landlord (a fine honest face - a handsome gentlemanly Scotch man) we were accommodated better than many others, (he giving up his bedroom for our use). Our other travelling companions had to sleep on beds made up in the parlour and 9 other guests in the dining room floor. We washed ourselves a bit, and then went to a table d'hote tea and a pretty little set out it was too, everything heart could wish for - after tea about 8.30 I took a stroll to the waterfalls close by, crossed them, on a bridge made of wood, the torrent underneath us seemed to vibrate for some distance round, gathered a few flowers, walked to the edge of Loch Lomond at the floor of the Hotel garden - came indoors about 9.30. Never have I slept in the midst of such magnificence.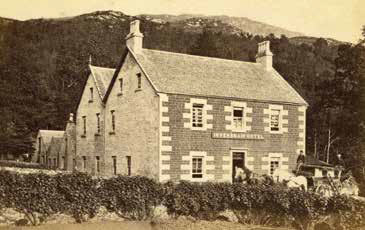 Tuesday, 13th August
Got up about 7.30 not having slept at all well, on account of the sound of some rats (and not a few) They created a great noise all round about our room. No doubt they were enjoying the silence of the night, but at the annoyance and expense of others.
To our great disappointment, the morning turned out wet. The mountains around us could scarcely be seen, even close by. I wrote a little in this diary before breakfast, which took place at 8.30. Had some salmon cutlets & tea for breakfast, Saw the landlord and thanked him for so friendly resigning his room to us, and took steamer for Loch Lomond. On we journey again thro' rain and mist up a finer Loch than Loch Katrine but to my taste not prettier. I still give the preference for Loch Katrine, it may be because it was the first I had seen. I don't think I can ever forget the feeling of mingled pleasure & fear I experienced, during that days journey as far as the Inversnaid Hotel. We landed at the end of Loch Lomond at Balloch Pier where a train was in waiting for us drawn close up to the pier, left there and went onto Glasgow.
Our grateful thanks to Mr. Baxter for allowing us to reproduce extracts from Mrs Quy's diary. We should also like to reassure our readers that the Inversnaid Hotel is now entirely rat-free, although you may well catch a glimpse of our local community of Pine Martins from your bedroom window.
Readers' Views - A selection of your letters and photos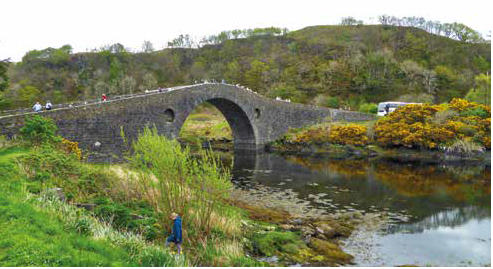 Our party crossing the 'Bridge over the Atlantic'
Ian McGlynn, Bourne, Lincolnshire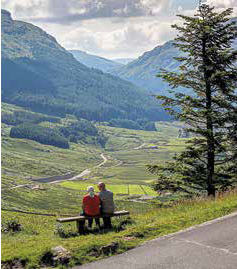 At the summit of the Rest and be Thankful
Mr Terrance Jamieson, North Baddesley, Southampton
This historic bridge joins the Hebridean island of Seil with the mainland, but because that it crosses the Clachan Sound that connects at both ends to the Atlantic Ocean, it has become known as the Bridge over the Atlantic. On its completion in 1793 a horse and cart loaded with hay bales was sent across to test the bridge's strength and integrity. Remarkably, over 200 years later, and despite it never having been strengthened our Lochs and Glens coaches regularly cross it safely on the way to the picturesque village of Easedale.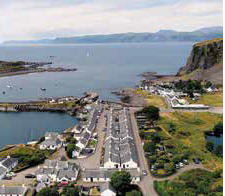 Just wanted to say thank you to everyone for our holiday at Loch Tummel. It was like going home and oh how we have missed our holidays with Lochs & Glens. As usual the staff were outstanding and our driver wasn't bad either. (Derek) We had some fun and some tears, but it was great.
Enclosed is a little ditty that my husband wrote along the way. It all started when I told Derek I didn't like him cos he kept driving me round the bend. (joke). Hi, I am the driver, I work for Lochs &
Hi, I am the driver, I work for Lochs & Glens, I'll take you here and take you there, I'll drive you round the bend. The scenery is magical, I'm sure you will agree, Never ever knowing what you're going to see. Now the tour is over, I hope you've had some fun Maybe we'll meet again one day, under Scotland's beaming sun.
Barbara & Cliff Squires, Abingdon, Oxfordshire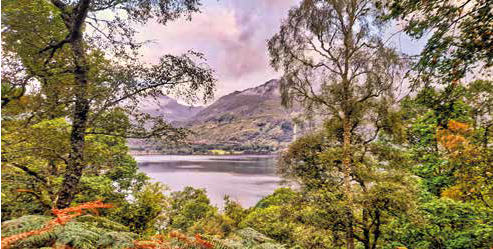 Just wanted to say what a lovely time I had at Inversnaid, came back a couple of weeks ago. Was lovely to be back in Scotland and we were so well looked after by the staff at Inversnaid. Nothing was too much trouble. I attach a photo, I climbed up the hill behind the hotel on the second morning and the view was amazing. I have done that walk before but not in the morning. I really love Inversnaid, my second time there. It is good to drive in down the "Inversnaid Highway" and have the boat trips as well. I enjoyed the trips out and the scenery over Glen Coe was stunning. I managed to have a paddle in Loch Lomond as well as finding somewhere to paddle at Killen. Our driver Tommy from Procters was excellent, keeping us informed of things and his driving is excellent.
There is a brilliant facebook group "Friends of Lochs and Glens" and I have seen some pictures of the waterfalls since the recent rainfall. I'm looking forward to my next visit to Inversnaid at the beginning of March.
Emma Bradley, Woodborough, Nottingham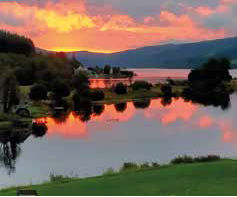 Just to say a big 'thank you' for a brilliant holiday at Loch Tummel Hotel. The 'icing on the cake' being a fabulous sunrise!
Geraldine & Alan Lynn, Chippenham, Wiltshire
If you have a photo taken on a Lochs and Glens Holiday that you would like to share with our readers, please email it to photos@lochs.com or send it to us at the address shown on the back page.
The Road to the Isles

Loch Nan Uamb
Travelling along the famous Road to the Isles is considered to be one of the finest drives in Scotland. As you travel along the 45 miles between Fort William to Mallaig you will see some of the best scenery in the whole world with stunning mountain views, white sandy beaches, shimmering lochs, historic places and superb views of the Hebridean islands.
Starting from Fort William, it is not long before we pass 'Neptune's Staircase', the name given to the flight of eight locks at the beginning of Thomas Telford's famous Caledonian Canal. Construction began in 1804, but it would be 18 years before it was finally completed and the dream of sea going vessels being able to sail between the East and West coasts whilst avoiding the treacherous waters around the north of Scotland, was realised.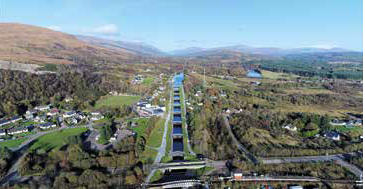 From the canal we travel another 20 miles through increasingly dramatic scenery before arriving at Glenfinnan where there will be time to wander down to the iconic Glenfinnan Monument or photograph the equally famous viaduct, instantly recognisable by any Harry Potter fan.
The Monument, now in the care of the National Trust, was erected in 1815 as a tribute to the loyal Jacobites who rallied behind Bonnie Prince Charlie in his attempt to regain the British crown for the Stuarts in the 1745 uprising, a brave, but ultimately unsuccessful rebellion that resulted in the banning of Highland dress and tartan being worn.
When the West Highland line was completed in 1901 it was at the time when concrete was replacing stone and the Glenfinnan viaduct was, and still is the longest concrete railway bridge in Scotland. A long-established legend was that a horse and cart had fallen into one of the hollow piers during construction, but it was not until 2001 that scanning equipment was sufficiently powerful to locate the unfortunate animal - surprisingly not in the Glenfinnan viaduct but in the central support of the Loch Nan Uamb viaduct, just visible in the top photo.
And so on to the bustling fishing village and port of Mallaig where further onward travel is only possible by ferry.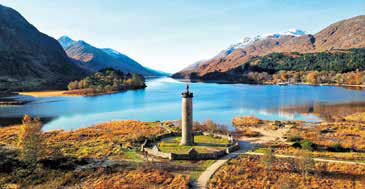 If you are inspired to travel along this memorable road we have various excursions included in our 2022 and 2023 programme that might interest you. From the Ardgartan and Highland hotels there are holidays that include a return journey from Fort William to Mallaig, travelling by coach in one direction and by rail in the other, riding aboard the famous Jacobite Steam train.
Other Highland Hotel holidays also include a truly unforgettable circular tour; by road to Mallaig then onward by ferry to the Isle of Skye, returning to the mainland across the Skye Bridge. From here the scenery is no less impressive as we return through mountain passes and across remote moorlands back to our Hotel.